Wow, I was unaware of this but apparently November is National Nutrition Month. And they lump Thanksgiving in there…does anyone else find that ironic?
I don't like to harp on the 'this is what you should eat' thing too much because as I've said before I live by the workout hard, eat hard creed. Still, that doesn't mean I totally throw caution to the wind and get gluttonous on only fried Twinkies and drink mayo by the tub. To be honest some of that stuff just plain doesn't appeal to me.

Warning: you are approaching empty.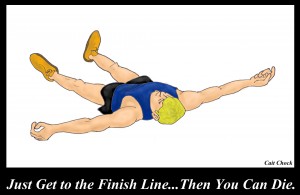 This post is inspired by two things, so bear with me. The first is this hilarious picture from SkinnyRunner's blog…who amongst us hasn't played chicken with that empty gas alert gauge on our car? (okay Seinfeld fans smile at the flashback to Kramer here)
I was inspired by this list of 10 Little Things to be Thankful For – Running Edition by Adam Goucher and Tim Catalano. I really liked what they added, but I wanted to add a few more of mine as well. So here are a few more: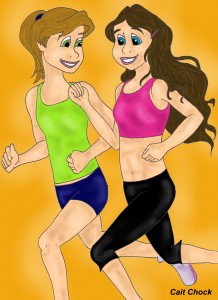 * Training partners sans the drama-rama: let's be frank, girls especially can get a little catty, BUT you find the right kind of people and it can make for an AWESOME training group! Group dynamics can by tricky no matter the gender, so when you find a group that clicks…throw a party and don't question. Having a partner to share the pacing workload is always a major plus: you'll usually end up going faster but it will feel eaiser…crazy, I know. Plus, having someone to help pass mile after mile is always great too.

Cross-country champs comes but once a year.

Okay, I won't go too crazy on that sentiment because technically there are LOTS of things that come but once a year…for instance 9:36 on 11/25/11 only comes but once a year too, right? Haha.
But because there are plenty of seasons wrapping up here I wanted to do a post. Yes, for all the NCAA fans those cross champs happened on Monday. Congrats to all the great college showings there! Living in California, during high school I really associated Thanksgiving weekend with the State Championships; California likes to be all special and be the VERY last state to hold their champs and it is tomorrow.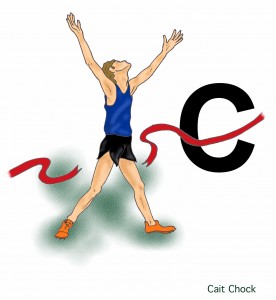 Along with that, the National High School meets are starting the rounds; there will be Nike Team Cross Champs (NXN) as well as the first few Footlocker Regional Meets. Now, even though I'm FAR graduated and becoming a geriatric, I still get a little excited buzz when I think about all these meets.