No, not me, but many do it. Ultras. As if 26.2 miles weren't enough, let's kick it up a notch.
I've never really been 100% certain about how I felt about ultra marathons. Trust me, I'm an Obsessive Compulsive Runner to the bone (or at least getting in some kind of workout if I can't actually run) but it really made me question if I'm THAT OCR-ish. "Could I actually keep going that long? Would I want to go that long? Would I get bored because you are running at a 'slower' pace? How the heck would I even start that thing, 'okay, one mile down, 115 to go?!' "

Then another part of me brings up, "Dang, how much fun would it be to chow down after one of those ultra's…heck even DURING one of those things!"
The event does fascinate me but I'm not sure I'd ever actually do one. I mean being able to run a 15-minute 5k fascinates me and I know for darn sure I'll never actually do one of those! But back to ultra's, they are growing in popularity and getting more press as of late, so here are a few of my own personal experiences as well as factoids I've found: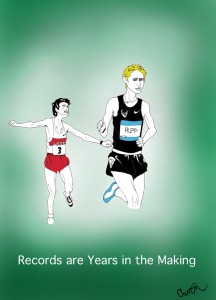 * I've always counted Alberto Salazar as one of my heros (both running and as a person) and to hear some of the stories about how he trained for the Comrades Marathon are EPIC. He went on to demolish the course record, but he's said that race was one of the hardest things in the world. It took everything to keep going…that says a flipping lot in my book. If a man with that much grit, who did long runs wearing a weight vest, did repeat miles on a treadmill to have the heater blasting in his face to best mimic the conditions of Comrades, tell me that race almost did him in, it really makes me question if I could hack that.
* Very recently I had the pleasure to interview Michael Wardian, a current ultra marathon superstar. He's unique in the man races an insane amount but still retains an incredible amount of speed; he'll do 100 mile races and come back a day or two later to run a marathon. He's got a qualifying time for the Olympic Marathon Trials this January AND he's earned a silver medal at the 100k World Championships…that is range. Even more astounding to me was that he still has a 'regular job' despite criss-crossing the globe on a weekly basis AND does the majority of his training on a treadmill. Why a treadmill? Because that way he can babysit his two young children…I respect that even more. Next time you think the treadmill is too mind-numbing, think of Michael busting out some ultra long runs in his basement.
* Another famous ultra marathoner, Scott Jurek, attempted to break the 24 hour record (188 miles) this past weekend in Taiwan. While he fell short he still clocked 106 miles and retains the US record of 165 miles. I think what gets me here is that in Taiwan the race was held on a 400 meter track. Seriously?! I think the mental burnout factor alone is crazy.
* A few years back there were two prominent runners who were the 'face' of ultra running: Pam Reed and Dean Karnazas. They both wrote books and the media liked to play it up to be a sort of rivalry…Pam the nice, mom versus the boisterous and 'celeb-hungry' Dean. Dean did come to Nike while I was still there and I don't think it's fair to judge people without really knowing them and I want to keep this a positive post, I will just say he's not lacking in the ego.
So ultra's. Would you, could you run for THAT long? Do you find them appealing?

As it stands for me, I think it's fascinating, but it brings up a bit of an insecurity in myself…I honestly don't know if I could do it.
1) Have you ever though about doing an ultra marathon?
2) Does the thought of running that long appeal to you?
The other thing, is I think I'd just get too antsy running at the pace you have to in order to finish…I'd want to get done…lol.
3) Any tidbits you'd like to throw in here about the event?
Related posts: