Runners and Sundays; for some it's the delegated long run day which then means: license to be totally lazy and slothful for the rest of the day. You don't even have to move hand to mouth if you don't want to, just train Fluffy to grab the spoon, Ben & Jerry's and learn to shovel. 😉

Just kidding, but to be fair to B&J cold ice cream isn't the worst kind of
post-run refuel
, I mean there's the whole chocolate milk movement…ice cream seems like a logical piggy-backer onto that, right? Regardless, Sundays are also known to be a little lazy and lackadaisical so in tribute I'll spare your eyes much reading and give you some flashes of brain nugget wisdomisms.
* Running's mental but not THAT mental. Running usually comes down to a battle of wills, but sadly you can't totally imagine your workouts into fulfillment…there is visualization to improve what could be but you have to follow up with DOING it. Motivation wanes but when in doubt, kick yourself in the tush to get the first mile done…the first interval done…and get 'er done.
* Lean, mean, protein machine. I'm a carbo-loving freak like none other; running burns lots of energy so for a long time I didn't actually think about my carb to protein ratio and dived into Pop-Tart gluttony. BUT that changed after I graduated high school and once I made a conscious effort to up my protein (I still didn't slack on the carbs though!) I noticed a big difference in the amount of lean muscle I had.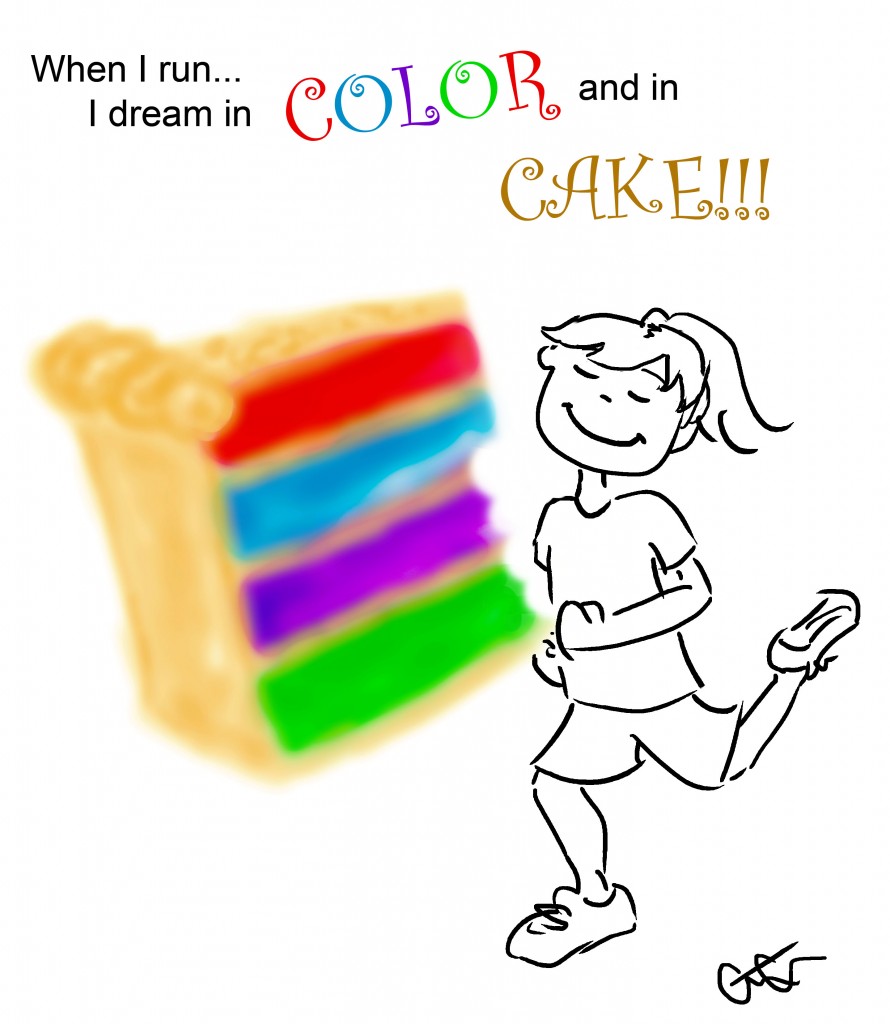 * It's a gas. Runner's are always fun to chat up GI issues with…not in the moment though. Gas, the runs, bush dives, 6 pre-race port-a-potty stops, you name it. Don't be shy about speaking up because we all struggle with it and if you don't talk about it you may miss out on a possible remedy to your…runs. 😉
* My feet are SUPER! Actually, I'm a huge pronator, like the majority of people, and while I rock out supportive shoes I also have arch support inserts. I use green SuperFeet and they help. But shoes are incredibly personal to the runner so BE SURE to know your foot type before just diving into the discount shoe bin…mkkk!
* Always laugh. You can be a grouch on the inside after a bad run, horrible race, nasty workout, but pretend that whenever you're around others, teammates, competitors, an audience…that you're on the Miss America stage. Put some Vaseline on those teeth and bust out the fake smile. The thing is, negative attitudes are infectious, and if you happened to win a race and start pouting, think about how the person you beat would feel to see that…like they must REALLY suck. When you're by yourself, or with coaches/close family, feel free to vent and reflect on the race…sure…but in the end learn from it and move forward.
Sorry if that last one got a little too wordy for Sunday! Get back to making Fido spoon shovel feed you! 😉
———
Get Chicking shirt update! I'm down to my last handful of shirts so if you want one before I have to make another order act fast you speedy peeps! 🙂
———
1) Do you have a flash factoid to share?
2) Is Sunday your long run day?
3) Do you make sure to get enough protein in your diet? Do you make sure to also get that full quota of carbo-loving goodness too?
Related posts: