Ah, the thrill of race day is what some runners live for. Take all that adrenaline and exited-nervousness and it's a schmorgesborg of energy. With race day comes the (hopefully mostly) self-imposed pressure, expectations and hopes to run your best. You've got big goals you want to achieve and you hope that by the time you cross the finish line you've hit those. Here are 5 ways you can stack the odds in your favor to step away from the line satisfied.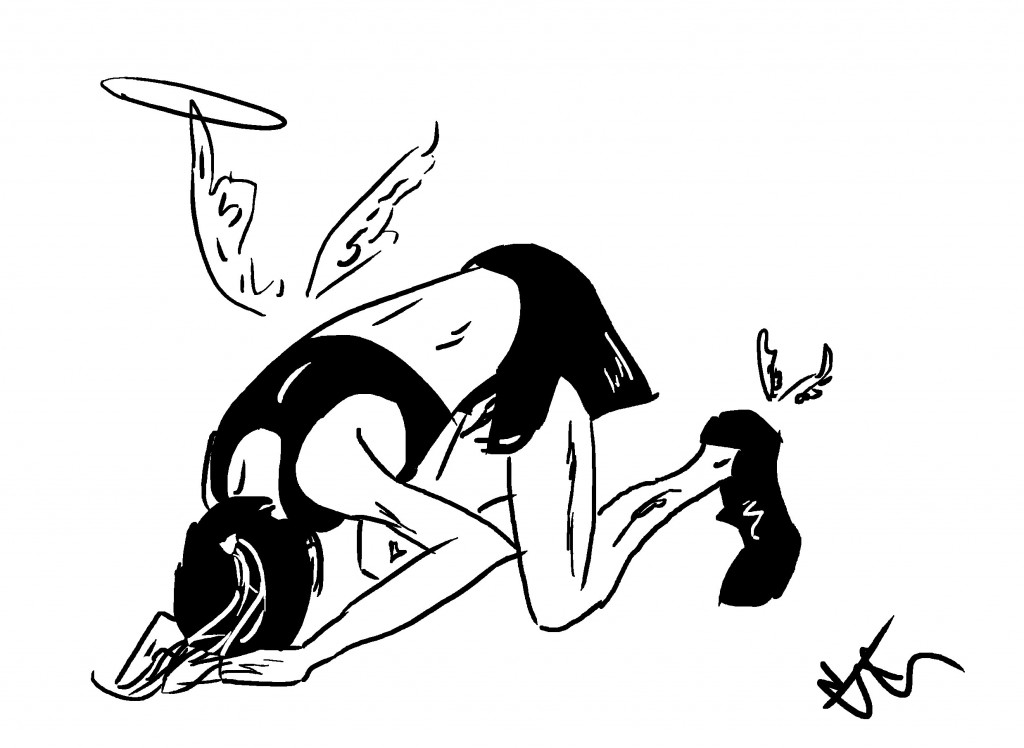 1) Game Plan: You need to go into any race with a concrete idea of how you're going to run and the goals you want to achieve. You don't want to have to try and make decisions on the fly; in the middle of a race you don't want to be wasting mental energy on wondering what to do. Plan how you're going to run, the splits you want to hit, how you are going to react if someone surges or your competitors make a move. Go in knowing if YOU plan to make those moves and what you will do if someone covers them. With race plans you need a few because you don't know what others may do; you don't want to be surprised in the middle of a race and freeze-up. You also don't want to mess up your entire race by poor pacing. When you've got your race plans it's even better if you're able to use mental visualization to 'practice' them.
2) Consider Conditions: If you're running amidst a hurricane you should obviously be drafting off of people! Not funny, I know. But when you show up to a race you need to check the conditions and adjust your race plan if need be. If it's really hot and humid you may have to chuck the times you had planned and race off of effort. If it's really windy you may want to hold off on taking the lead until later so that you can tuck in and conserve energy. The race day weather and conditions don't DEFINE the race and you can't let less than ideal conditions be an excuse for you to still not put the effort in; it just means you may have to adjust your goals and plans.

3) Use Your Competition:
Don't ever be afraid of your
competitors, embrace them
because they will force you to step up your own game and race your best. Always be looking for that person faster than you, key off of them, sit behind them, focus on their back and don't let a gap develop. Pick people off; if that back you're focusing on is slowing down or you feel better then blow by that sucker and move onto the next person in front of you…always keep looking for that next person.
4) Avoid Mind Mutiny: There are SO many sub-topics here, for the sake of brevity I'll give pointers here and direct you to other posts. Getting stuck in no-man's land in a race stinks, but there are ways to salvage the race; don't let feeling like it's just you on the course be an excuse to give up…hey, the clock is always there! The middle of a race is the hardest, don't let your mind check-out here…this, 99% of the time, leads to your pace slacking. Keep applying the pressure and focus. Do NOT focus on, "dang, this really hurts." Duh, running hurts…that's a reality, you knew that going in. So stop the self-defeatist thoughts and focus on what you CAN control (form, breathing, stride count, etc.) as a means of distraction.
5) Not Your Day, So What: Does that sound heinously tough love-esque? Well so be it…but the truth is we ALL have races where the legs just don't show up that day. If the gun goes off and you feel like you're pulling bricks, don't automatically throw in the towel and give up. You NEED those mentally grueling races and workouts because getting through them makes you mentally tougher; then the days when your legs SO show up, you'll be able to apply that toughness and you'll be running faster. Overcoming the crappy runs are a huge mental test; give up too often and you set up a really bat habit that is tough to break out of. So if it's not your day, yes, you may need to adjust your goals and plan but STILL put in the effort. Also, you'd be amazed at how your race can be salvaged even with 'dead' legs; that and miraculously your legs could show up mid-race…it's happened.
So there you go…five ways to make sure that race you've been running your butt off for doesn't suck. Of course there are many more…but I guess you'll just have to keep reading (and running) to get more. 😉
1) What's one way you make sure your races don't suck? Or a tip you'd like to share?
2) What has been a time you had to adjust your plans due to weather conditions?
3) When has been a time that your legs really didn't show up that day; how did you react and still put in the effort? Or, if you gave up, what did you learn from that experience and try to make sure you did better next time?
Related posts: