Holy sweet baby Moses!! Okay, first off, I need to come up with a new better phrase to express extreme frustration or on the flip side over the top excitement. I've gone through phases of 'holy cow,' 'holy moley,' and I even did the 'holy moley cow' bit, all equally as granny panties. So I'm up for suggestions here, what do you people catch yourself saying?
Before my wild tangent ride there, the reason for this exclamation is because of extreme and utter frustration. The place that I am renting at is in Loomis, CA and is about as 'in the sticks' as I've ever lived. *Hold for people who live in true rural areas and farm houses to laugh and sneer.* But for a girl who has been a suburbanite all her life I had no idea that you just can't get a 'real' internet connection when you have neighbors that are horses…this is KILLING ME!!!
I've talked to the humatoid neighbors and they just seem to deal with it…ummm, that's not an option. Is it insane to say that I'd never move to a place permanently like this because of internet access alone? I'm about to go AWOL after two weeks! Well, I don't feel too bad because when I was talking with one of my really good friends (He's into Halo big time) he said there was, "No freaking way I'd be there."
So I'm camped out at a Barnes and Noble mooching off of their free Wi-Fi. Thank you. 🙂 Do I feel sorta bad that at the table I'm sitting at there is a sign that reads: "For the courtesy and convenience of all our guests; This seating is intended for customers who have purchased food and beverages in our cafe." I would feel bad, but there is a grammatical error there that makes me feel sort of less guilty. Mwahaha.
So Happy Hump Day to all. I need to express also my ongoing apologies for being lame-o in my commenting and blog reading action…it's because I'm living sicks style and can't get a flipping page to load on my computer so I'm firing on about .000000001 cylinders and will try to cram in as much as I can at B&N's while I can.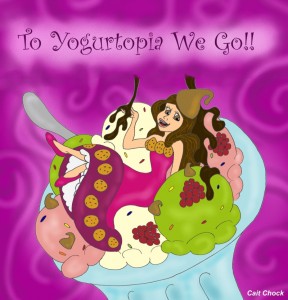 In non-internet related news I am giving you my promise that the final chapter in the Yogurtopia Fairy Tale will go up soon. A forewarning it'll be a long post but I want to get the full story up and 'read' for you. Last night I inked out all the final illustrations and will colorize ASAP.
We haven't had any running talk yet, that's crazy, so I'll correct that now. Yesterday I did another moderate style run and today was yet another tour of duty on the treaddy. 9 miles put in, am I getting a little predictable? Now, I was alerted to this race first by Margs, but it came up again on Sunday: this January is the inaugural Tinkerbell Half Marathon at D-Land and for anyone who has seen the insane amount of Tink things I posses would tell you I love me my Tink! Well, I found out that the Nappy Mamma and Pappa (PS-these are my adopted family…I liked them so much I smuggled my way into their crew, I double dip like that.) are both heading down and will take part (there is the Lost Boys 5k the Fri before the Tink race for the fellas), and Mamma Nappy is urging me to take part.
Brace yourself here folks, she told me the cost of entry for just the Tink race alone is something like $120 and maybe more!!! Hold the pintos and beans, say what?!?! I haven't raced in an eternity, but where in the heck do race directors get off charging so much?! It gets worse, there are 'deal' packages to race both the 5k and half which will grant you access for half a day to the park, and that is over $200.
So, wow, I would love to find any reason to head to D-Land but maybe I should promise them my first born…the joke is on them because I'm not gonna be popping out any kids. But my resolve is waning, I do love Tink and all things Disney, my birthday is in Jan…so who the heck knows. Maybe I'll find a Lost Boy to smuggle me into the race.
—————————————————————————————————————-
Two quick shouts! If you've downloaded, used, or are using any kind of running/workout apps, techie devices, iPod workout syncing thingy, please share you're thoughts…you'd be helping me out with an article. 🙂
AND…I still want those ugly running shots…I've only gotten a few brave souls, so c'mon peeps! 😉
—————————————————————————————————————-
1) Would you, could you live without internet?
I've talked about this before, and it turns out I brought it on myself by tempting fate. I can't live without internet, what am I to do?!
2) Can you catch the grammo-wacko mistake from the Barnes and Noble sign?
3) What in the world is up with race fees, is that the norm, or is more because it's Disney and all that jazz?
Related posts: