Happy Sunday to all! What does Sunday mean? Well, if you answered chocolate chip pancakes and comics then at least I can deliver on one. I'm introducing my own quick little comic strip, Runner's Strip, here for you guys that I hope you enjoy.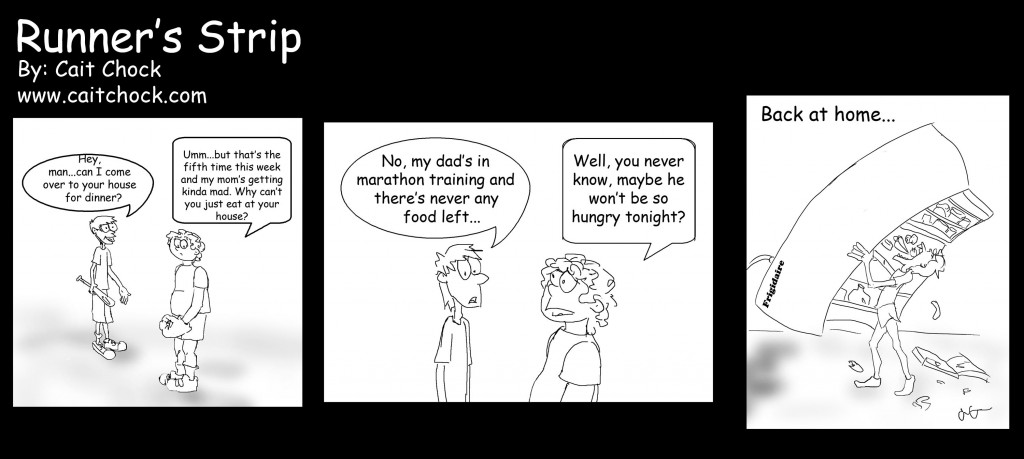 (Click Image for closer view)
If you'd like to check out a few other running related cartoons of posts past, feel free to revisit our Running Super Heros: The Kankled Avenger, The Cranky Hamstring, PreMONTaine, and Texas Girl, and
Happy runnings peeps, and here's to devouring all the food in the house! 🙂
1) Do you often find you've got a belly that's a beast and refuses to be satisfied? After which kinds of workouts do you tend to feel the hungriest after?
My stomach usually works on a bit of a lag time, right after hard workouts I'm not hungry but then later in the day it kicks in.
2) What's your favorite pick for refuel?
Depends…I make sure to get in my 'healified' quota and then allow the treats to follow. 🙂
3) Food braggage…let's hear it folks…tales of tables past. Your Runner vs. Food accomplishment so to speak.
I'm not entirely ashamed to admit I have eaten whole pizzas, a couple boxes of Pop-Tarts, and an Entemann's coffee cake on various occasions…not all at once, different times. Not that I recommend it as nutritionally sound…
Related posts: