When to cmopeare and when to not.
Running is quite the unique sport. Obviously it's the BEST sport, but it's different than most because it is highly personal. The end result rests solely on your shoulders…err, legs.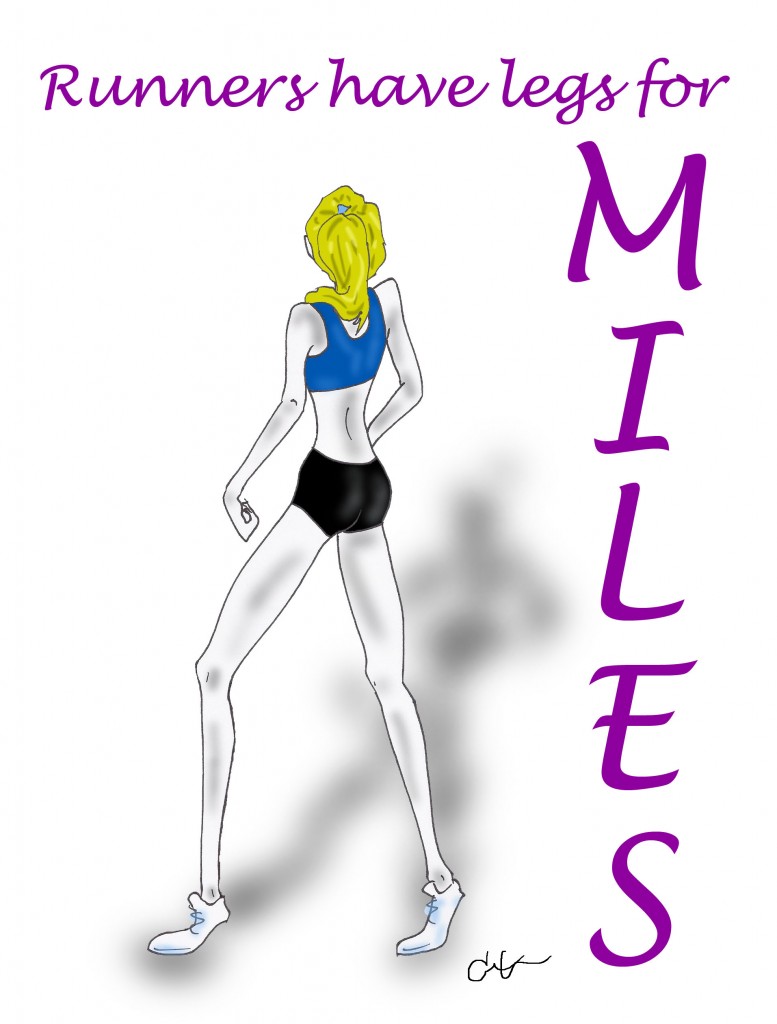 So while there are a pillars of support you can look to, the wisdom from others to learn from and guide you along, it's ultimately going to come down to you taking the initiative and being motivated from within.
Ironically though, it's generally outside elements that we can get hung up on as we gauge our running success. Are we faster than so-and-so, they ran this many miles and how many did I run, I see she was doing her repeats at this pace…and often times we make ourselves out to be the 'loser' regardless of the competition.
It's very easy to get hung up on the negatives or what whe CAN'T do, our shortcomings. Generally we're going to compare ourselves to the person we DIDN'T beat and decide we stink, rather than look to the person we did beat and feel like we're making progress.
Running is personal, but human nature sucks us into comparing ourselves to the ones around us, and usually doing so in a way that it makes us only feel worse about ourselves.
It goes with training and workouts, but it also goes with how we look compared to our competition or what our diets are compared to theirs. Sometimes runners get easily distracted on the 'details' of a particular runner instead of what it really should come down to: results. Funneling that down even more, your PERSONAL results.
Running is personal, what works for one person may not work for you. They may be able to handle running more miles than you, maybe he can indulge in more Ben & Jerry's than you, perhaps she will always be able to run her intervals just a bit faster. Sometimes that reality STINKS, but it's a reality.

It's also a reality that somewhere there is a runner comparing themselves to you and being envious. The running shoe laces up both ways.
I would be wrong to recommend we discard comparisons completely, that is counterproductive to our sport and our own personal growth within the sport. You WANT to look to the runner faster than you and use them to spur in you the motivation and drive to get out there and chase them. You just want to be sure you're looking to them in the right mindset: one that will help you rather than harm.
No other runner or person can dictate how you're going to feel. It's up to you to make the CHOICE. Choosing to recognize you're not the fastest person is acknowledging a fact, but then CHOOSE to use that as incentive to improve in ways you can. Don't make the conscious choice to take the defeatist mentality and berate yourself. That applies with training and workouts and all other areas runners are apt to get drawn into playing the comparison game.
Running is the best sport, though, as runners we tend to be Type A and hypercritical of ourselves. It compels us to train on days most others would blow off a run but it can also be our own greatest obstacle.
How you choose to look at your competition is up to you, make sure it is in a way that lights that inner fire to run headlong into your highest potential.
1) Who do you tend to compare yourself to the most?
2) In what area do you tend to do the most comparing?
3) Which trait in others are you usually most envious of?
4) Which trait do you possess that you feel others are the most envious of?
Related posts: