I've run in some pretty crappy conditions, but today marked a first for this runnerchick. I literally had to run/swim, like stop the watch and doggie paddle kinda stuff! California goes from the golden winter to flash-flooding my bike trail today…it was craaaazy!
Actually the episode was actually quite comical. I almost tripped and went full-submersion style. [side-note: I have a phobia of leeches, visions of them stuck to my legs and torso riddled my mind the whole run] So a toast to you, Winter, you pulled a fast one on me today. You done good, but I still won out. I'm pretty sure that was hail there between those bullet rain-drops and I came out looking like a wet, sewer rat but I got that run done.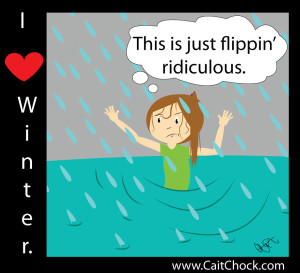 And hey, I'd still take a bucket of rain over some of those well-below zero temperature readings from other states. You runners over there, good gracious, seeing icicles in your beards, eyelashes, and hair!! But I did have to make a cartoon for my run today because, quite honestly, I'm not doing one BIT of over-exaggeration for comedic effect.
Sometimes reality, in it's own sickly sense, is way more hilarious.

Go on, run on…run/swim on?? 😉
———
HUGE NEWS!! If you follow me on Instagram you probably saw the Spoiler Alert! My latest running shirt design has dropped! The Peacock Runner…check out my Mommy-O model, the first runnerchick to don this one.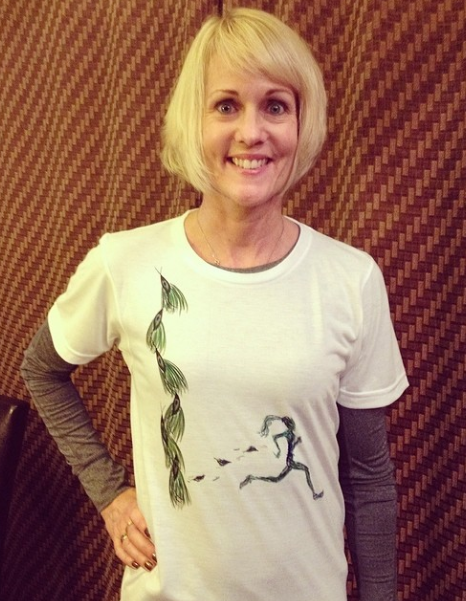 Full details on this one to come and it will be available to buy at my store soon…but my excitement bubbled over and I had to give you the sneak peek. 😉
——–
1) What's the deepest water you've had to cut through during a run?
Today was well above my waist.
2) Worst conditions you've ever run in?
3) Are you pretty good at keeping a secret if you're excited?
Ummm…no.
Related posts: