A Tail of Three Piggies…the Running Redux.
We've all grown accustomed to that classic childhood fable of the three little piggies and the wolf; this time it gets revamped with a running twist. You see, in actuality those three little piggies had been trying to get into this whole running scene…
It was summer and prime opportunity to get a jump start on the upcoming season; this summer would be their base building phase.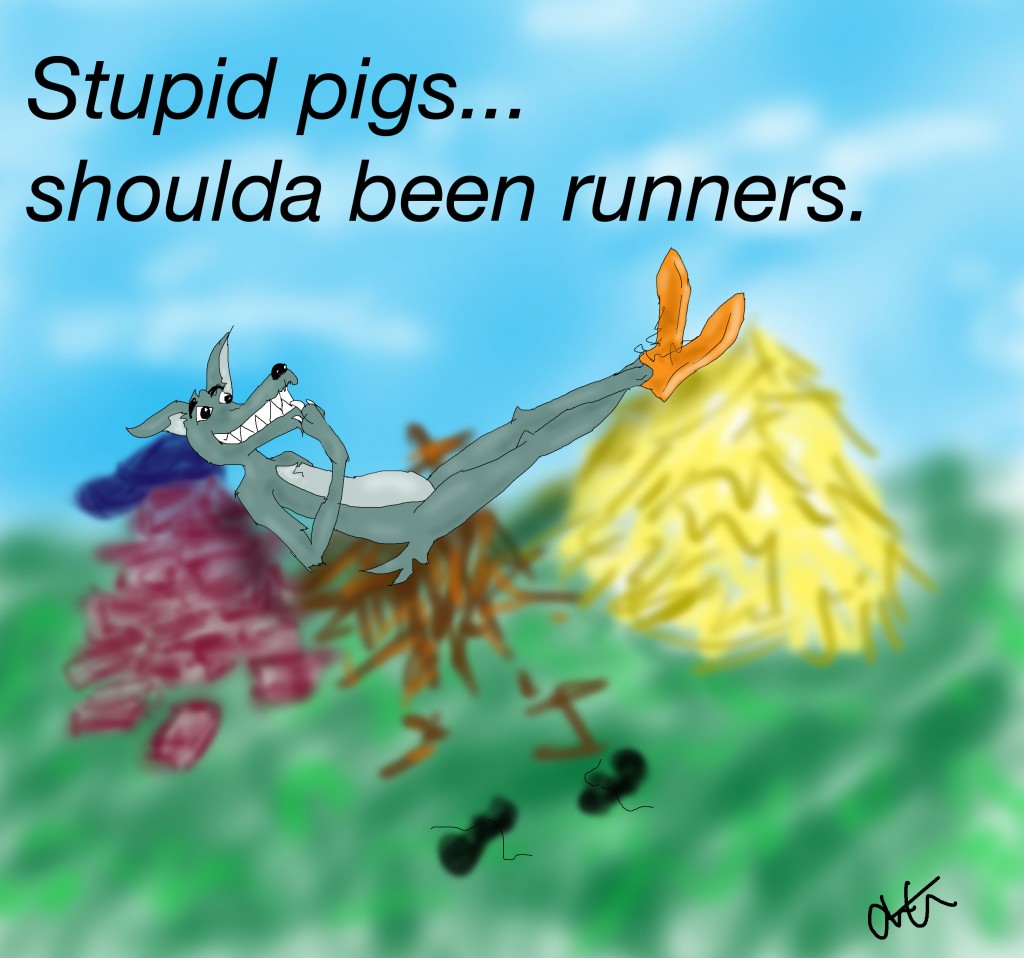 Piggie number one had schooled up on some Lydiard theories, he dedicated himself to miles, miles, miles, the more the better. Obviously he didn't pay all that much attention to the pace of them, slow and steady gets the job done, right? Every Sunday he laced up for his long run and planned to reach at least a marathon distance come the end of summer
Piggie number two had always been blessed with speed, but truth be told he wasn't all that much of a hard-worker. Of all the piggies he had the most talent and decided that as long as he stayed sharp he'd kick his two brothers' butts by the end of the racing season. He ran three days a week and short; he didn't bother to warm-up (why waste extra energy?) and hammered 200 meter repeats. Sunday he devoted to carbo-loading for the next week's workouts.
Piggie number three was lucky and had built a house of bricks near a forest with tons of trails. He found loads of hills and decided that he'd build quads of steel off of them. He liked rolling hills the most and for most days he'd run the same route and try and get faster than the last time. One day a week he'd do hill repeats up the steepest one he could find and for that day he'd try to do one more charge up the hill than the week before.
Now, the wolf you see had been a runner for years and years. When he found out what the piggies were up to he spied on them from the bushes and would chuckle to himself because he too was going to be racing in the upcoming season. Though he was beyond confident he'd kick all of the piggies' butts come the Championships. He knew that while some of the piggies were doing the right things collectively, individually one piggies was lacking what his brothers were doing.
The wolf knew that each piggie on his own was making mistakes that would give the keen wolf the advantage. So the wolf sat back, let the summer play out and here's what happened that season:
Piggie number one definitely had that killer base, he could run for miles and even did that marathon. The thing is, the wolf beat him, as did both of his brothers, right off the bat because Piggie One had only one speed: slow.
Piggie number two got passed up next; yes he had motored out from the gun because he had that speed but that lasted about the first mile of the 5k. From there Piggie Two was tapped, he hit the wall hard because he'd built up no endurance…those last two miles were not pretty for this piggie.
Piggie number three, now this is where it got interesting. See, Piggie Three had build himself into pretty fine shape about mid-summer and if the race had been held then he could have probably given that wolf a good race for his money. But somewhere right past mid-summer this piggie noticed he was drained on his runs, he was infuriated that his times were getting slower and slower, not faster. He tried harder but the more he tried he seemed to be running painfully slower. At the race he still bested his other pig brothers because even at this slower pace he was in better shape, BUT the wolf had foreseen that Piggie Three would be burned out come the Championship race. The wolf was right.
So, this fine wolf breezed past all three piggies and onto the finish line, he broke the tape and waited for all three piggies to finish. He had had time to collect his breathe and before cooling-down he stated,
"I give you credit for trying guys, but you need to take a cue from each of your brothers and balance your training approach. From Piggie One you should learn to yes, dedicate one day a week to a long run and work on your overall endurance. Piggie Two you were smart to include a dose of speed-work, build on what I just said and dedicate one day to a fartlek workout or surges…and maybe think of doing some strides after a few of your easy runs which you need to include in that week. Piggie Three I applaud your gusto and dedication but you are actually over-training and never giving yourself a chance to recover. With your long run day and a farlek day during your week, pick one day to do another hard session focused on endurance…think something like a threshold, mile repeats or bust out those hill repeats but go longer. Obviously don't do any of these in a row and for the days between do an easy run at a pace that is actually easy enough to recover; let your muscles repair and come back stronger. Even allow yourself a day of full rest."
The wolf smiled after this and licked his lips that were salty with perspiration. For, while the piggies then huddled together constructing their training plans going forward the fast wolf pounced and then gobbled them all up!
1) Were you smart enough to foresee which mistakes each piggie was making and able to predict what would happen in the race?
2) Can you spot any other mistakes the piggies had made, OR have other suggestions for them outside of what the wolf said?
3) Can you spot the mistake the wolf made? I'll leave the answer at the very bottom…don't peek!!
4) Is this revamped version of the piggie tale your new favorite?? 😉
Spoiler Answer to Question Three:
The wolf should have waited to gobble up the piggies only AFTER his cool-down…duh. I'm sure that extra load in his gut didn't sit too well, but at least he definitely hit the 30 minute post-workout refuel window! 😉 Hehe.
Related posts: