We have FINALLY reached the rainy and cool weather I have missed so much! It's a little crazy to think that I was left pitting out my shirts less than a week ago and not two minutes ago there was rain pouring down.
Too bad all of my rainy weather running (and normal people) clothes are stuffed in a box as yet to be found. Time to do some digging.
I did a tempo run today on the bike trail. Luckily, I didn't get run over by a bike, but there was a little kid on a bike that made me feel good when he said, "Mommy, she's running fast."

Though I wanted to laugh because you know how it feels when you're attempting a faster workout but feel soooo slow! (And then you look down at your watch and it only reaffirms that fact…hehe.) Regardless, got in my six mile tempo and the effort was there.
I've got some other friends that can relate to feeling like you have a foreign pair of legs running those workouts, but what I've come to accept is that this is where I'm at right now. Don't even try to compare to the 'old' you, take this as your starting point, and then be happy with any improvements that may come. I also remind myself just how awesome it feels to be out there running at all.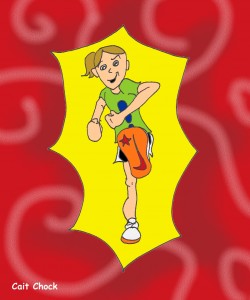 In other news, I am also painting my new room. I'm actually really excited because this is the first time I'm really able to do whatever I want. I don't have to worry about apartment complex rules, so the walls are going to be lime green and a darkish blue color. This is phase one, the next phase will be hanging my posters and art.
The other thing is that I'm working on some other articles and have been able to have a few really interesting interviews. I could talk about running and all things sports and fitness related forever so it's been great.
Another perk is that I can parlay some of those factoids into topics for posts…win win. Alright, this writer has a deadline to get to, so until then, happy runnings and if you were on the bike trail today and you saw a girl who looked like she was busting her bum and still not running all that fast try and spit, but the spit landed on her own shoulder and arm so that she looked like a pathetic mess…that was not me. ☺
1) What's something that a little kid said to you lately that made you laugh?
I like that kids are brutally honest, they will tell you if you look a hot mess.
2) How do you handle getting through workouts where your times aren't what you'd wish but the effort is more than there?
I do my best to completely opt out of the comparison game. Luckily for me I know going in it will be much slower; but I also try to abstain from looking at the pace too much. For instance, in my tempo today I just went what felt to be hard and only looked down at my mile splits and pretty much ignored the clock otherwise.
3) What is a topic that you could talk about or read about forever?

Related posts: