So I have to start this post off with a huge congrats to Jenny Simpson (previously Barringer) who won the Gold Medal in the 1500 meters at the World Track Champs. She is the first American to win any Gold for any distance race for 28 years!! Finally we have broken the African dominance streak…hehe. 🙂 If you're not a huge track fan, I'll let it slide and tell you you're missing out later, you should still appreciate this feat and go read up on what's going on at the World Track Champs scene.
Looking at the faces and reactions of the various athletes crossing the finish line is always really fun. There are those moments that capture utter euphoria at a dream finally recognized, the athletes who have poured their hearts and souls into this moment for years, never a guarantee that all of that work would in the end grant them a Gold Medal. There are those shy receptions of breaking the tape from the ones who were the overwhelming favorites going into the race and already have multiple Golds waiting back at home.
There are the comical ones sometimes, tossing up hand gestures, one guy looks like he's strumming an air guitar, others sticking their tongues out. I'm not judging; hey, if you win you can do what you like, some people find it disrespectful but I think so long as you don't turn around and run down the homestretch backwards or break into some MC Hammer running man you're alright.
My favorites though are the moments that capture pure shock. The ones where you can clearly see that an athlete is living out 'one of those days' on the track and even they haven't even fully been able to wrap their heads around the fact that they may be, in fact, the person running. I mean of course they put the training in with the hopes of achieving such a feat, you have to have confidence in yourself, but there are no sure things in track…when you get to the line you still have to get through those laps before hitting  the medal podium no matter who you are or your past accolades.
These shock moments come from runners who don't necessarily come home with the Gold either. Heck, are you kidding me, when you get to that level you should throw your own flipping party over any medal in my book. Some of the happiest harriers captured have been the ones coming in second or third…sometimes to the point where their achievement almost overshadows the actual winner of the race.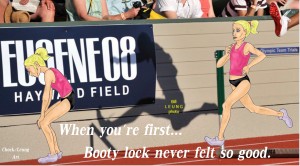 Shalane Flanagan's bronze at the last Olympics in the 10k was one, the year before when Kara Goucher snagged the bronze at the same event in the World Champs are just two examples. I loved looking at those pictures.
So Jenny's 1500 meters pictures…track fan or not, you can't help but be excited for her when you see the snaps of her crossing the finish line.
1) In your mind's eye what would the moment of your own dream realized look like? If you have achieved this already do you already have a picture of just such an event?
Related posts: