It's been over 24 hours since yesterday's horrific incident clouding the Boston Marathon, yet I'm still unable to put the right words down. I was not there, so anything I can add is merely an abstract opinion; though I do believe everyone is entitled to their own thoughts and feelings.
In the build-up to Boston, just like all other running fans I was excited. The Boston Marathon is one of the biggest, in name, numbers, and history. I wrote about it, shared one of it's most legendary runners' perspectives on it, and held hope that an American Woman would finally bring a win back to the States.
I was charged with anticipation; that's one of the great things about the running community, I, thousands of miles away from the starting line, was able to 'taste' just a smidgen of the electric energy swirling around Boston.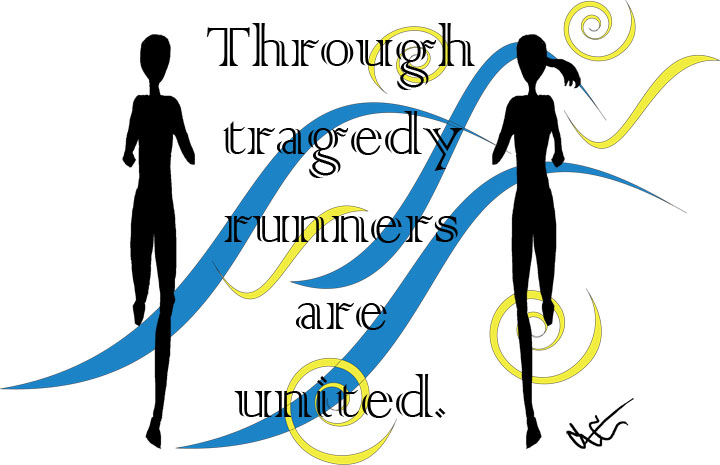 While an American Woman didn't bring home a win, in the first wave of finishers the closeness of the running community and shared kinship, especially between training partners, was displayed poignantly by Kara Goucher's and Shalane Flanagan's finishes. They wanted to know how the other did.
Runners are able to understand each other in a unique way. Even if they are strangers, even competitors on the same course, they are able to sense things about the other…words unsaid, with a glance. There is something to be said for shared agony, suffering, whatever in the heck you want to call the 'pain' of racing.
And then it happened. I am thankful that no one that I immediately 'know' was harmed. But I feel that as a part of the running community, that isn't quite correct. A runner knows a runner.
A runner also knows just how crucial a support network is. So a runner knows the supporters, spectators, cheerers, and any spirit moved to absorb the electric atmosphere of the Boston Marathon.
I was not there. I can't even begin to understand the 'whys' behind this and I can only imagine what it was like to be there.
Though, I try my best to find what positives there can ever be. There isn't a positive in this case, but rather just a glimmer of something redeeming. I will say this, here is this legendary event holding wonder and lore and now it is stained with this awful cloud.
Rather than let the smoke and ashes suffocate the event and the running spirit, we are able to come together, mourn the tragedy but not let it erode our kinship and sense of community. The 2013 Boston Marathon will no doubt be one of those things forever tinged with loss, sadness, and no doubt anger.
Though it will not stop us from running. It will not revoke the meaning behind the marathon. Don't let the anger swallow you, don't entirely lose hope for humanity yet, be thankful for what you have, those precious moments of life and the ability to run for another day. Not that running is the end-all by any means…it wasn't running that was the target, but I've always found running a loyal companion to take me through life's hardships.
Hold your loved ones dearly, let them know. Hold you ability to use your able body quite dearly too. Runners are instilled with an indomitable spirit, a fortitude like none other, but a closeness to each other quite unique.
Runners will do what runners do…run through the hardships to get to brighter times.


Related posts: