All the cool kids are doing it. The marathon.

I was on the fence about writing one, and my reason is this: No I have not run a marathon *horrified gasps* but I still think of myself as a runner. The marathon has grown in popularity an insane amount in the recent years; it happens, the mile used to be the lovechild event but now it's the 26.2'er.
Yet for as long as I can remember being a runner, anytime anyone see's me out running or hears that I like to run I get this, "Do you run marathons?" When I answer no I can see their looks of shock…then disappointment…then pity, "Oh, poor girl, she thinks she's a runner."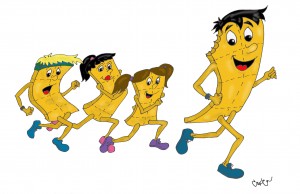 Do not get me wrong, I would love to run a marathon one day, I haven't yet for a few reasons but I do want to eventually. I do have the name One-speed Chock for a reason and I love long runs…so I'm sure it'll happen. I have a tremendous amount of respect for the event, but I also have a tremendous amount of respect for the other events: would you walk up to the World Record holder in the mile, ask them if they have run a marathon, and then deem them an unworthy runner and give them that 'pity' look? 😉
Regardless of the reason, I do love seeing a mounting passion in people for running and if it takes the marathon to do it…godspeed! I think it's just funny sometimes. THAT said…because that it's an Olympic year fast approaching I wanted to do a quickie post on this.
Turns out that it won't be hung-over bachelors, bachelorettes, or all the people in the middle wandering the streets of Las Vegas this weekend. Well, there probably will be those too, but the city of sin is being taken over by runners too! There are two big marathons this weekend, the first is the Rock n' Roll Marathon in Vegas as well as the California International Marathon (CIM) in the Sacramento area. What do the two have in common?
They're both faster courses AND the last ditch effort for anyone hoping to make an Olympic Marathon Trials Qualifying time. The trials will be in Houston, TX in January…ahhh, so the bar has been set, and I do know there are plenty of men and women lining up with some lofty goals and dreams.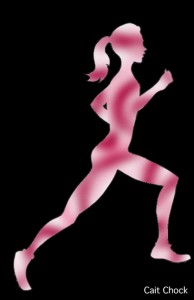 Yet even if you're not with Olympic Trials aspirations, best of luck to anyone who is running in either those marathons, and any other for that matter. My earlier ramble was of course no love lost on runners who ARE marathoners, more just poking fun at the mass public who lump all runners into a single category. 🙂 Mostly, just a teenie vent at the people who do offer up that pity look when they hear the phrase, "Yes, I'm a runner…but no, I'm not a marathoner." 😉
If your feet are torn up from miles, you stank of sweat, and you know what a fartlek is you are a runner…and one day I'll join the marathon club…
1) Do you know 'that' look I'm talking about, whether you do run marathons or not? Let's get both perspectives!
2) Have you run a marathon or what is you choice event?
3) Do you know anyone running in either marathon this weekend? Are YOU running them? Any of them going for the time standard?
Yes I do some some people…gooooood luck! 🙂
4) You're a runner if…
Related posts: