It's probably runner elitist of me, but if someone's not a distance runner and they complain about being tired, I can't help the little voice in my brain from thinking, "Okay, they're tired gauge isn't the same." Oops, my snark is showing.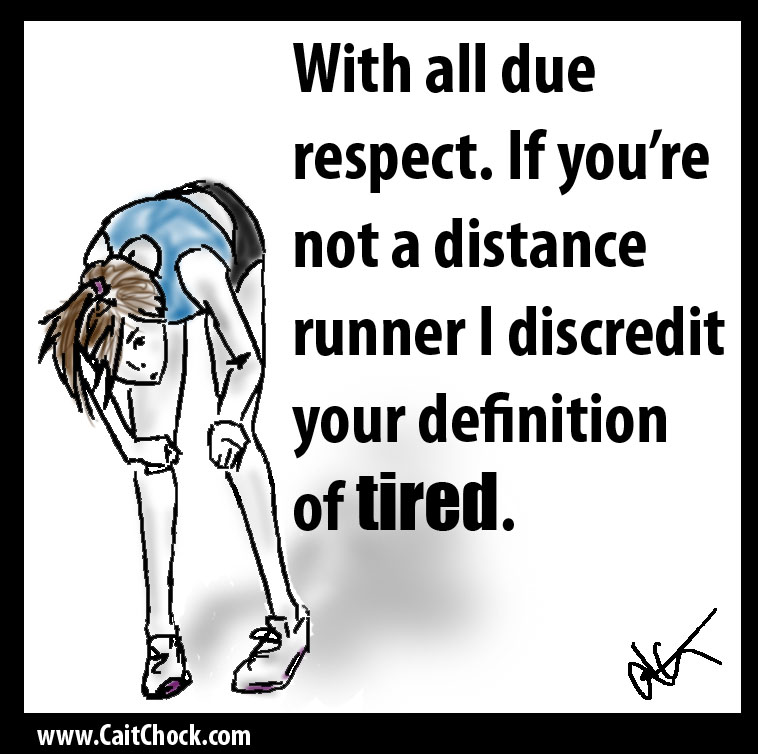 Distance runners, I'll open the umbrella to include endurance athletes in general, work off of a totally different spectrum of tired. In fact, we really don't even START the barometer below a 5 or 6, we're living in a constant, chronic tired level where 'normal' people would probably complain.
Above that, a 7 or 8 would encompass darn near every easy run. Those post-hard workout 'easy' runs would certainly kiss the 10 realm.
We run into an issue at 10; you see, there isn't a real definite cap to this barometer for a few reasons: 1) breaking through to a new level of mental toughness always redefines what we constitute as tired/painful/hard, "Holy crap, now THAT was certainly the most pain I've endured…I didn't know I could go that far!"
2) Distance runners have learned to cope with our sport by lying to ourselves. Part of those lies include denial: "I'm really not THAT tired", "I can totally keep going, this is nothing".
After 10 we sort of force ourselves numb…we don't quantify the tired scale to numbers because it's best to just NOT know, am I right? Distance runners bury their heads in the sand in terms of 'tired'…of course we know we're tired, but more often than not we aren't going to complain unless it's at a near cataclysmic level…or we finish the workout. 😛
Is this the most healthy thing? No, not always, there is that fine line between being tough enough to workout and race, and then being SMART enough to recognize it's best to actually cut yourself a break. Of course there is always that line.
However, even with that 'smart line' intact, distance runners need to have a different tired/pain scale than 'normal people'. If not, well, we'd all just be picking daisies out there and wiping the Cheetos residue from our fingers. 😉 [It should be noted that both are perfectly fine, AFTER you've gotten your run in for the day…lol.]
——–
Don't let the 'wrong' kind of tired lag on too long, low iron is one instance of the WRONG TIRED level: Get checked if you think something's off.
A coach is also there to talk 'smart sense' into runners if they notice over-fatigue.
Don't discount the easy days either…make a marked difference between your hard workout days and recovery runs. If not, you won't be recovering and then you won't be able to get the quality you want from those hard workouts!
——–
1) Let your runner snark show, in terms of a tired scale and pain tolerance, do you think runners have a different one than 'normal' people?
2) What do you rate the 'base' level tired is for just the regular recovery and easy runs? To a certain point we're always working, at least to discomfort, no?
3) How do you then decide between 'push through it' tired and 'I need to back off/reassess' tired?
It usually comes with learning lessons the hard way, sadly. That said, everyone is different and a whole part of running is learning to read your own body; you take advice from others and then it does take some tweaking to figure out how it best applies to yourself.

Related posts: