When you close your eyes, may you dream of lanes, miles, and splits.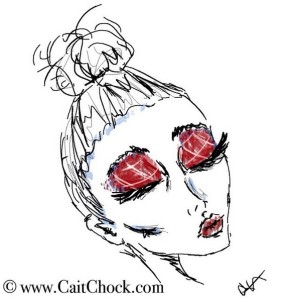 It's never too early to dream of track, or any running goals for that matter. But at a time in the season where your next race may night be quite close enough to 'taste'…the motivation to brave the elements (Hello, Winter, I was over you last month.) can wane for some runners.
I often take the snarky, or sarcastic, side to life, even when it comes to a 'kind' kick in the right direction. Here are some ways I suggest keeping yourself consistent until it IS close enough to 'taste' your next race.
1) That Runner Guilt Factor: I'll be totally honest, this is usually my BEST way to combat a motivation lull. I remind myself that skipping a run usually is not worth feeling that 'runner guilt' later. No joke, you know it's not fun going to bed tossing and turning because you caved to an instance of laziness.
2) The Endorphin Factor: Close to the above, I also remind myself that even if I feel tired/sluggish and the last thing I want to do is run…that usually changes after the first 5 minutes or mile. Once you get into the run those endorphins kick in, and I've never finished and thought, "Wow, I really wish I woulda just kicked it on the couch."
3) Play Antagonizer: Mental dialogue, "C'mon, don't be a weenie. Suck it the heck up, lace it up."
4) The Buddy System: When in doubt, call a friend, arrange a run, join a group, social media that you ARE going for a run. That way if you back out, you've got to deal with the 'Tweet of shame' later. Good peer pressure and all that jazz.
5) Training Program: If you're training to PR, I have to say I honestly recommend you have a coach, or are knowledgeable enough yourself to coach yourself. But self coaching is HARD…and it's a lot easier to not have to 'think' about your training. That way, you have someone to tell you what to do, BAM, your job is just to run. Trust me, running is hard business, taking some things off your plate is nice. Plus, if your coach gives you the workout, no arguments, lace it up, Buddy!
6) Dream of Goals: Even if race day IS far away, write it down and know your goals. Like the picture above, if you VISUALIZE what you want and put it OUT THERE, it makes things feel more 'real' and you know what you're working towards. It's harder to blow off a written goal, one you dream about, right? Methinks yes.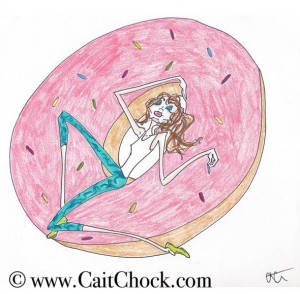 7) Bribery: It'll get you everywhere. Bribe yourself with new running gear, think about dessert, splurge on some cool new shoes, dream of pancakes on your run, create a cool playlist…whatever. When it doubt, donut it out…you just have to run first. 😉
8) Identity: Okay, some people may be all judgmental and say you shouldn't DEFINE yourself as a runner…but I'll be honest, a big part of who I am (or at least the parts I tend to like the most! haha) is that I'm a runner. It's not just a passion of mine, but it's a way I connect with people, my friends, and a mentality. I know if I've run for the day I feel better and am a happier individual. So race or no race, get my miles on.
9) Money in the Bank: Think of all these miles and workouts as money in the bank. The stronger you are going into the 'meat' of the season the better you'll race. Doesn't that sound logical? Picture your competitors, who do you think will do better come race day, the ones gettin' 'er did, or the sofa'ing 'er did? The uglier the day/workout, the more excited you should be when you tackle it…it's making you that much tougher.
10) Superiority: Remember that runners are just better. So go run, don't you want to be part of the cool kids? 😉
Snark, goals, tough love to yourself…whatever it takes. Dream of miles, and remember you HAVE the support of the entire (awesome) runner community to give you a motivation boost when you need it.
Related posts: