Hey Runner Friends, guess what?! My friends over at Clif have put together a cool live Facebook Q & A chat with professional runners Scott Jurek and Ellie Greenwood. If you're an ultra runner, yes, THE Scott and Ellie of trail fame. Both are wold champions and indomitable trail running forces.
The event will be Wednesday, April 30th at 12pm ET or 9 am PT. It's open to everyone, runners of all distances and levels, all you need is a question!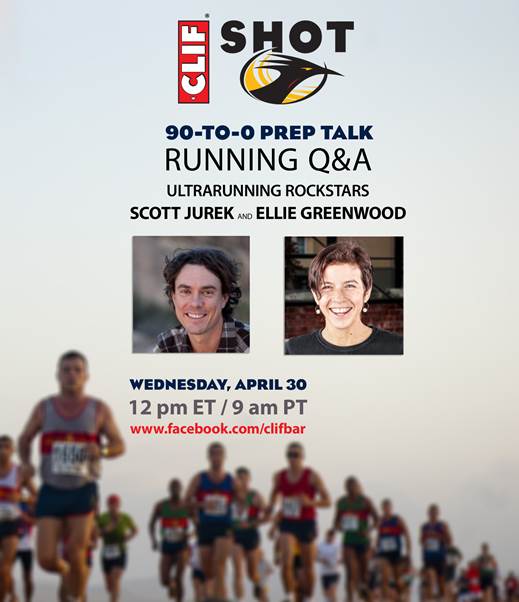 In addition to having questions answered, Clif will be doling out prizes [info provided by Clif]:
* One winner will receive a 30-minute 1:1 consultation with Scott Jurek to discuss how to prepare before, during and after race day. Scott will choose his favorite question at the end of the Q&A.
* Several lucky participants who ask questions during the Q&A will receive a CLIF SHOT Toolkit featuring CLIF SHOT products, gear for training and race day and CLIF's marathon training and nutrition guide.
So put your thinking caps on and start brainstorming which questions YOU'D like answered. I'm giving you the chance to get a head-start even!
Leave in the comment sections here what question YOU would like answered and plan to submit at the event. And if you do Clif will send you out a CLIF SHOT Toolkit packed with goodies: products, training and nutrition guide, and run gear.
——–
Clif kindly sent me their invitation and gave me free reign to bring along as many other awesome runners as I wanted. Info and toolkits supplied by them but opinions are all mine, and I don't share anything on my site unless I feel it cool and worth sharing!


——–
Related posts: