Fartleking. The term probably calls to mind particular workouts, but fartleking isn't something you do just in workouts. If you watched the US Olympic Marathon Trials and took a look at the splits the women were running (or watched any of the post-race interviews) you'd see that their miles were kind of all over the place. They opened up over 6 for the first mile, then ping-ponged around the mid-5's throughout; they were farleking.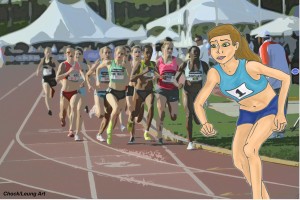 Why is there farleking in a race? Well, a race can be run for two reasons: to get a fast time or go for the win. The latter is a strategic race and typically seen in the big time races where titles and top three finishing slots are more important than the eventual time. Fartleking, or throwing surges in, is one tactic to break your competition.
Getting back to last weekend's marathon, Amy Hastings surged to the lead after mile 18 because she knew that it was down to four runners and if she dropped the pace she could potentially drop one of the women, or at least develop a gap. Mentally, getting a gap on your competition can sometimes be enough to beat them before the finish line. Getting gapped or being stuck in 'no man's land' is difficult and can sometimes be the nail in the coffin for a racer.
Hastings wasn't able to gap the other women because they responded and were just stronger on that day; but that doesn't mean that throwing surges in late in the race isn't a smart strategy. Another reason is because fartleking a race is not the 'easy' way to get a fast time and it's tough on the body. Your body runs best (and your PR's will usually come from) running even paces; when you drastically swing from a fast pace to a markedly slower one your body never is able to get into a real rhythm. If a runner isn't used to fartleking, it's even harder for them to keep pace or hang on; the advantage goes to the one putting in the surges.
The lesson? If you're able to train your body to fartlek, or surge, in a race and hold it together you can use it to your advantage to try and break your competition.

How? Do it in practice; get yourself used to varied paces. There are TONS of different ways to fartlek outside of the traditional one minute hard/one minute easy formula.
Try this – Finish Fast 800's Workout:

* Warm-up
* 6-8 x 800 meters – Run the intervals comfortably hard through 600 meters but then for the last 200 REALLY pick it up and hammer to the end
* 400 meter easy recovery jog between each one and finish with a cool-down
Another Variation – Slow/Fast 800's:

* Warm-up
* 6-8 x 800 meters – But alternate the pace of each 400 – The first 400 done at what you'd do a tempo run at or just slightly slower, the second one done at about 3k pace
* 400 meter recovery between and cool-down
*** To make this one more advanced do the 800's continuous for 4 miles, starting with the 'slow' 400; the focus is to really pop those hard 400's but still keep the'slow' 400's faster than an easy/medium effort…even the 'slow' 400's start to get tough by the end!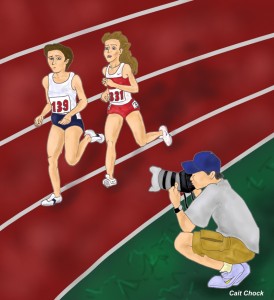 Finally, Greg McMillan did a great artlcie for Running Times on the 'Move and Match' kind of fartlek workout. Here is an example of having a team or training partner to help add unpredictability to a workout, simulating what would happen in a race.
The bottom line is breaking your competition is all a part of racing, one way to do that is to throw in a surge, or multiple surges. You do it right and you could put a gap on them, break them mentally, or at least tire them out. If you're used to surging you'll be better able to handle it and keep the race in your control.
1) Do you do farlek workouts?
2) Do you do farleks or surging in races?
3) Have you tried varying the pace of standard interval workouts like in the examples above? Getting used to finishing an interval even faster is a good habit to keep in mind.
4) What do you tend to think about during your hard workouts?
I try to remember to stay relaxed, drop my arms, and stay smooth. If I'm running with someone I like to be right behind them and I just stare right at their back and try not to let any distance get between us.
Related posts: