Cue Joe Rogan. So I am bringing you this post as a major alert: CHECK OUT DIS CHIC CHICKPEA…do it now!! Haha, now I usually try not to bust out the all caps in multi-word format that often because it is annoying, but Amy over there posted a poem she wrote that really is too amazing to ignore.
It's about fear. It is ever-present but needs to be pushed out of our lives. She really puts it best, but it also got me thinking about fear and so now, as always, I can't just shush-up and will ramble on with my two cents.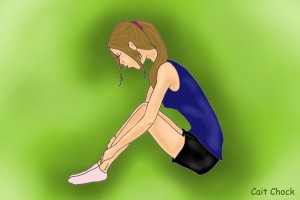 I think pushing fear from our lives in sort of like an ongoing battle, you shove one out the window and the door knocks with another. Sometimes I think it's almost impossible to avoid opening the door, or I guess rather the door gets thrust open against your own will. So then, it's up to you to rid yourself of the intruder.
There is also the little fear spectrum, or rather a speedometer. Worries and fears sort of blur together in my mind sometimes, and it's a matter of placing a particular worry/fear on that odometer. Is it running at a 4 minute mile pace or is it walking at 20 min/mile pace? Sometimes it looks like a speed demon but when you stop and actually clock it, it's going much slower than you thought. Sort of like that red sports car vs. the cops thing.
Amy's poem also comes at really, a perfect time for me. I've got my own little knock-knocks on the fear door and actually, should I be completely truthful they're already sitting in my lounge sipping coffee. I don't like to really admit some things, I like to either be positive or make enough jokes out of it that I laugh it off, but then again I don't like to lie or feel like I'm being a hypocrite either.
I would sort of feel like a hypocrite if I posted up this amazing poem about giving fear the finger and then not put the disclaimer that I've got my own fears and worries. I'm not sitting in an empty room, I've got Fear Nasties too. But, I also have other people in it besides fear and worry. Those people are there to help me oust Nasty Thing 1 and 2 out the window. In some cases those people are actually battling against the very same fear as you.
The tough thing I've learned is that those 'good' people are sometimes hard to find, the Fear Nasties can really crowd the room and the 'good' folks can get buried in the back. Here are the sticky points: 1) Identifying there ARE actually other people in the room besides you and the fear dudes 2) actually believing that they are there (yes, this is another step) 3) reaching out to them and saying you need their help and 4) actually getting the fear thangs out the window.
Getting back to the fear speedometer, if the things are more just worries, sometimes you can take a step back and realize that you're making them 'faster' than they really are in your mind and if you start thinking more rationally or logical you can come up with some sort of solution. If there IS no solution than your solution is that whatever it is may be out of your control, so the best you can do is accept that it is out of your control, then distract yourself until the thing works itself out or you learn something new about the situation. Push it out of your mind as best you can.
Lots of my 'fears' are actually just my over-worrying. Fear in my mind is more gripping, heart-stopping, or it's an enormous weight that is pressing down on my chest. Fear seems shorter, or like a climactic eruption. Worries to me are the slow build…I think they can lead to the gigantic fear eruption as the weight just builds to a point where it feels like it's crushing you.
Worries are more my problem. I've briefly brushed on that fact that I've got OCD where I made fun of myself, and if I told you all of my worries I'd laugh right along with you as I said them out loud. But laughing them off inside is far harder, and it's a matter of forcing myself to discredit these worries. Of course I've got actual 'real world' worries too, like we ALL do…and there are becoming more of those, so that adds to my lounge room of folks with Starbucks cups.
As I again catch myself in an epic ramble, I don't want to make this too personal, my intention was to identify that this particular poem is something we should all read, digest, then read again. Because it's a reality check: do you want to keep living with Starbucks sipping, uninvited, fear nasties with a speed rating taking up space?
I know I don't, and I know I've pushed plenty out of my room before with the help of the other 'good' people in the room. I think the digesting part for me has also been admitting that there will always be new fear/worries or whatever knocking on the door, some of them the very same worries I already pushed out before, and I need to really listen when they start knocking. When the knocking gets louder, barricade that d*** door and if the door bursts open anyways, rally the troops, open the windows, and get to chucking!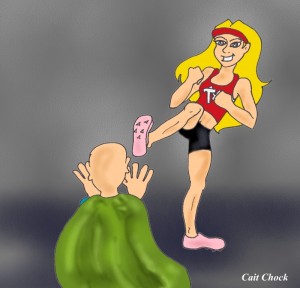 Related posts: