Christmas seems to take me by surprise as I get older. When I was younger I was counting down the weeks (who else made those epicly long chain ring?!) before November, but now it seems like when I start hearing the stores put Rudolf and Frostie the Snowman on the repeat loop I'm thrown, "What…already?!"


I still consider myself a five year old trapped in a 20-something's body so I'm always ashamed and appalled that I've forgotten to make my chain ring. Where is that fat man so I can go sit on his lap? I hope I've been on the winning side of good this year, but who really knows…
In keeping with the season I guess I must put together my wish-list. But, with the risk of sounding too cliched and Hallmark that anyone will take me seriously, I really don't have much to ask for. (Ummm, outside of having a bank account runneth over to pay my bills maybe?? hehe) Is that another sign of getting old? Regardless, I think I'll scrounge up some things to get those elves a'working:
* Garmin: I lied. This is really the ONE thing that rolled right off the tongue when the parentals asked if I had anything I was asking for for Christmas. I want that 405 diddy because it is small enough to where I don't feel like I'm doing an arm-curl the whole time I'm running.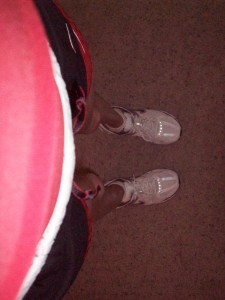 *Shoes: I wear an 8.5 in the Nike Structure Triax. That's all I'll say…I'm loyal to my shoes too, I've been in these suckers since circa 2004 and while I've been disappointed at some modifications they've been through over the years (I talked to one of the guys behind these 'updates' and let him know I wasn't all too happy…too bad my opinion didn't sway the masses…lol) I still stand by my shoes.
*Scanner/printer: art related, again my scanner is from the dark ages.
*Gimmie the green: I'm not greedy and I think my list is tapped out from here; so feel free to send along some flat little envelopes with season's greetings…so long as there are some green pick-me-up's inside. 😉 (okay, please know I'm joking…unless of course you wanted to send something…)

Because I'm so giving, here is my pledge to give YOU all for the holiday season…no matter what you celebrate, of if you celebrate nothing at all:
12 snarky side-comments
11 running shorts left out of the dryer and hanging on the banister (we all know they last longer if you air dry them!)
10 empty Pop-tarts wrappers…a day 😉
9 times that I lose track of time because I'm sucked into reading blogs and such
8 loogies you will have to dodge if you go on a run with me
7 times I get lost on said run…did I mention I'm a whiz with directions?!
6 times I'll probably end up apologizing if you spend five minutes with me…chronic apologizer here…I dunno why, I'm sorry
5 tries it takes me to get my scanner and computer to get along in harmony and work!! sheesh, can't these two take a cue from Cindy-Loo and the Who's?!
4 times I'm sure I'll tell you to go read an article in Running Times or Trail Runner Magazine…did I mention I've got a few coming out soon? 😉 Did I mention you might wanna sneak a peek into this month's Running Times?
3 times a week at least that I will do my core routine
2 minutes I spend sneak-strecting my psoas while waiting for the microwave to DING
AND 1 big sweaty stain that is THIS GIRL after finishing her workout. 🙂
1) Does it seem like the holidays sneak up on you too? What are you asking for this year?
2) Can you pledge to give us anything this year?
3) Which guy is a bigger meanie, Scrooge or the Grinch?
Related posts: