Shhh, you CAN'T tell my Garmin Forerunner 410 but I've been cheating on him. It's horrible, I know, because you all know how much I love him, but I find myself also in love with the Garmin Forerunner 10.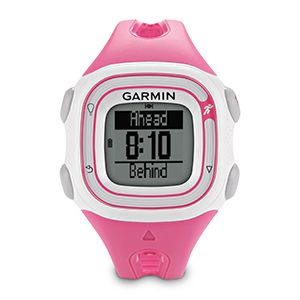 Source
The Forerunner 10 is the new, slimmed down version, and I was SO STOKED when the kind folks over there gave me a lime green one to test out. I took that baby for a spin (uhh, way more than once) and here are my thoughts:
* The Stats: This 'little' guy will track your time and distance on one screen, you can flip over to the other screen to see your pace and calories. To be frank those are really the only functions I use my 'bigger' Garmin for; since the 10 retails for $130, if you're not needing all those 'extras' I would say your best bet is to go for the 10. To compare, the Forerunner 410 retails for $250. And for the record the 10 does have a virtual pacer feature if you're into that.
* Alerts: The Forerunner 10 will beep every mile marker, which I really like. Sometimes I feel people can fall into the trap of getting too obsessed with their paces, especially on easy days, so what I'll do sometimes is not look down at the pace and just keep track of all the mile beeps. It's kind of like my compromise to going 'naked'…I'd be a little too freaked not to know the overall mileage but I can handle with running off of effort and let the pace drop wherever it may for the day.
* Fit: The Forerunner 10 really does fit just like a 'regular' watch; I know that some of the older Forerunners are pretty wide and bulky and for a runnerchick with a thin wrist it sometimes made me feel like I was wearing a watch sleeve! Lol. That said, my Forerunner 410 does fit nicely on my wrist and that's comfy; however, I will say the 10 is noticeably lighter.

* Accuracy:
As anyone who has a Garmin or understands the Satellite technology, it's not always exact down to the molecular distance level. (Yes, I made that a word) I'll run the same routes and some days the mile markers are a few feet either way, I'd say that the accuracy between the 10 and 410 are the same, so you aren't losing any 'quality' for going for the more compact or cheaper
Garmin.
* Cait Proof: The real test was I was able to get it out of the box, set, and run-ready all by myself, quickly without reading any of the instructions. Of course, go read the instructions, but my point is that the 10 really is that simple to use…I like that.
* Overall: Honestly, I love my Garmins and I've said that long before I ever got a bit of swag. I can't say anything bad about them; the only slight annoyance I could say I found between the 10 and the 410 is that the Forerunner 10 seems to take a little longer to locate the satellites before my run. Other than that, if you want need Garmin technology and you're only interested in distance, pace, time, and calories, this is your guy. I'd say it's the best bang for your buck, and *perk* for me is that lime green is my favorite color. There are also pink and black available.
On that note, now I don't know what I'm going to be doing with my little Garmin love triangle over here…I've been fair though and giving love to both. 😉
1) Do you own and use a Garmin? If so, which one?
2) Are there times when you don't use your Garmin?
I believe sometimes getting away from the obsessed numbers game can help certain runners in relaxing on their runs and keeping those runs easy…but at the same time I won't lie and going 'naked' is dang hard! 😛

Related posts: