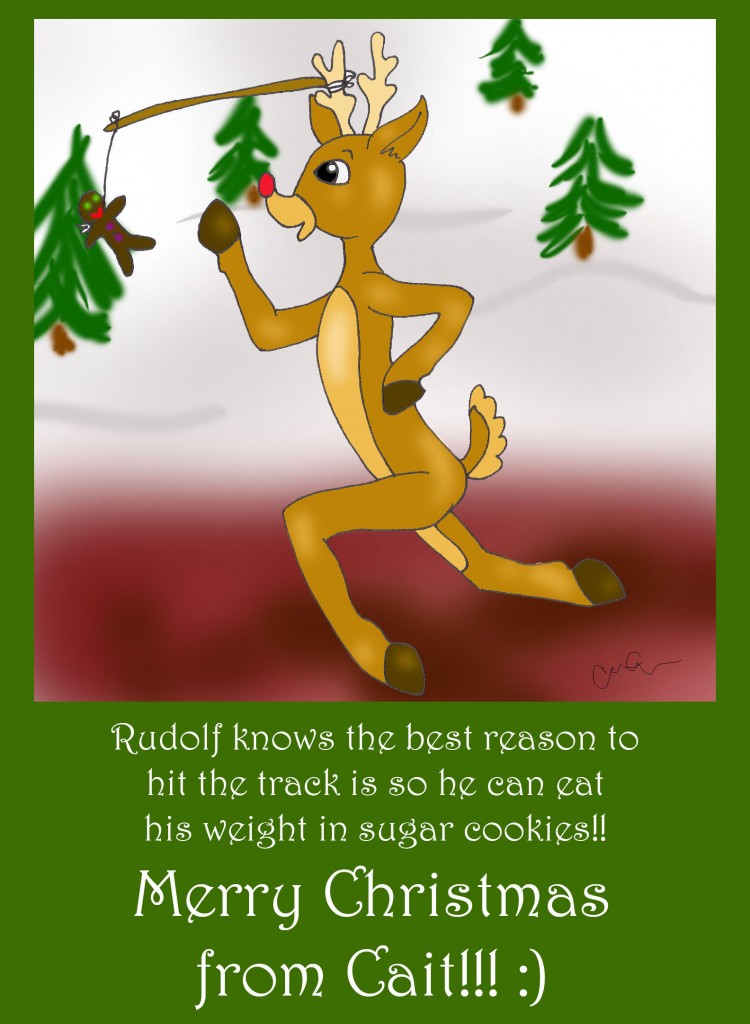 'Twas the night before Christmas, and across the North Pole,
Santa called all his reindeer, he had one special goal.
Stopwatch in hand the beasts lined at the track,
Dasher and Dancer were talking lots of smack.
Blitzen was shivering forgotten to warm-up,
Vixen true to name wearing a risque get-up.
Prancer there smartly testing the legs with strides,
Comet there bouncing, nerves wracked his insides.
Cupid by name a lover but fiercely competitive,
Donder also doing strides, sorry if it's repetitive.
Dasher confident, our returning champ,
Though Rudolf's been at training camp.
The fat man calls to their marks,
Elves fill the grandstand, happy as larks.
Poised at the line our reindeer are set,
The bookies confirm their last bet.
Off goes the gun and Donder jumps right in front,
Out too fast, he'll be dying soon if we're blunt.
Our race here's a 10k,
In case we forgot to say.
They pass through the mile,
Poor Donder struggling sans style.
Vixen takes the lead, check out those sparkly spikes,
Surely custom made, gotta be the latest Nike's.
Rounding 8 laps now,
Blitzen dying like a fat cow,
Too bad for him the next four miles will be the worst,
He's learning the hard way he shoulda warmed-up first.
Cupid's ego now bolstered he takes the front,
A sharp elbow from Dasher exudes a grunt.
Half-way and Santa checks the split time,
A low whistle and chuckle they're on world record time.
Prancer takes it at the far curve,
Cupid plays dirty, goes wide, makes him swerve.
Safely ahead Prancer ratchets down the pace,
Uh-oh down goes Vixen lost to an untied lace.
Eight still in the game,
Though Blitzen looks lame,
Rudolf sits at the back of the top pack,
He's looking fresh, pop his legs don't lack.
With a mile to go Dancer's turn in the lead,
Santa's ecstatic, the deer's picking up speed.
The splits are lowering, elves on the edge of their seat,
Most have bets on Dasher pulling a repeat.
Two laps to go it's a three deer race,
Lapping Blitzen there's no extra space.
Running up tight near the rail,
A burst from Dasher, the elves exhale.
The bell starts a'clanging,
Everyone wonders if the lead will be changing.
A gap starts to widen on the far curve,
But look here comes Rudolf racing with nerve!
200 to go they look neck and neck,
The stands in an uproar, what do you expect?
Down the final straight our two deer,
Who's ahead is still a big unclear.
Hooves pounding with fury,
So fast that they're blurry,
Then Rudolf finds that last gear,
Nearing the tape our winner to appear!
First past the line,
Santa's jaw drops at the time,
It looks like Bekele's record is uphooved,
Though we'll still have to wait for doping control to approve.
Rudolf raises his head, a smile on his face,
Dasher kneels to the ground lactic acid in place.
Elves cheering, well at least those with winning bets,
A few toy builders will soon have souped up erector sets.
Santa claps his hands looking proud,
Lest for Blitzen trudging home a sad cloud.
The reindeer's race is complete,
Until next year when there'll be a repeat.
Related posts: