I'm a runner so that means I can be selectively lazy.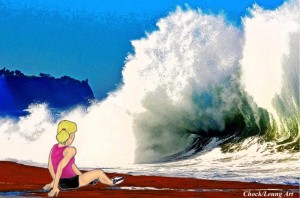 On a typical day I'll run at least 9 miles but if I'm driving I'll be darned if I won't scope out the closest possible parking spot.
I will also feel no guilt if on my way home I will pull up to the curb where my mailbox is, crane out the window and get it, and then drive across the street home.
I will lift weights and do my strength work but I'll curse at the flipping iron rolly gate that weighs a bazillion pounds when it refuses to budge and allow me to close it.
I've busted my bum doing repeat 800's or 5 miler tempo runs but then get schooled by a five year old in  a race to the soccer ball. I'm a long distance chick, so hey, don't judge.
I can talk about how important it is to stretch, I will dedicate myself to periods of being REALLY good and stretching like I should, but STILL not be able to touch my toes. My excuse is that my legs are seriously my whole body so proportionately my arms never stood a chance.
I love doing long runs, so 90 min's and upwards, but I will complain about how flipping looooong it takes to walk anywhere. Funny how walking one mile time seems like an eternity. I think that's why I just hate walking so much, I'm just impatient and I want to get there.
I like running so much also because you get 'the most bang for your buck.' I talk to cyclists and have been told that the ratio of running to cycling miles is about 3:1 or 4:1. Again, I'm impatient, I'd rather run for an hour than have numbbutt syndrome for three or four.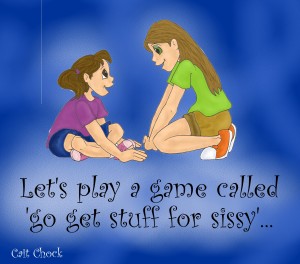 I will ask my sibling to hand me the piece of paper that is on the counter about five feet away, even if they might have to get up to do. Even if they say no, it was worth a shot.
On the flip side I HATE car rides, long flights, and anything that forces me to sit still for too long. This is, I know, sort of screwy because I can be sucked into my laptop for hours writing, FBing, etc. but I refuse to go to a movie that pushes too far past the two hour mark. Maybe it's the idea that I am forced or 'trapped' in a car and there is no option of leaving??
I'm a runner and I can be selectively lazy; but I still retain the right to make fun of people who are just straight up lazy.
1) What are some of the funny, quirky things you 'allow' yourself to do because you workout?
2) What are just some random weird things you do?
3) What is the name of your third grade teacher? Can you remember? Do you have a particularly 'traumatic' grammar school moment that may or may not still influence something about you today?
Okay, third grade teacher was Mrs. Hayes, I will never forget her because I am dead certain she is the spawn of the devil. Random grammar school moment that I am also certain must have something to do with me eventually being self-conscious if I'm running too slow: second grade PE class, it had been raining in the morning and my mom had made me wear rubber rain boots to school. Back then you didn't change for PE class so when they had us go and run, probably about 300 meters, I was about dead last because I was trucking bricks for shoes. Patrick McKibbin (look, I still vividly remember this) whizzed past me and says, "You're slow." I hated him for that for years.
Related posts: