Goodness, me! Wow, sorry to have been gone for a few days there, don't you hate it when work and life stuff gets in the way of the real important things? Blogging that is. I would say that it's a pain in the butt should ANYTHING get in the way of running or working out, but we all know that would be a lie since there isn't anything that I'd let get in the way of that one. 😉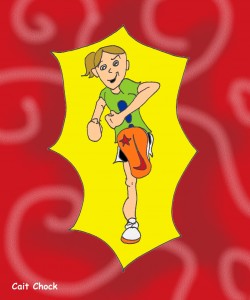 But yea, I've been busily working on a few freelancing projects that have sucked up all my 'would-be-blogging-and-blog-trolling' time…so my apologies. The good news is that rather soon I'll be rolling out some new art here…what, you're not sick of the recycled ones yet? Good. Hehe.
I hope your weekends have been going well and if you're living under a rock, I'll tell you that the World Track Champs are currently underway. Now, I'm totally biased towards both the longer distances and my friends, so fair warning that's really all I'll be mentioning. Hey, it's my blog so deal with it. 😉 But really, you can check the full results at the IAAF site and Paul Merca has a stand-out track and field blog which you should hop on over too.
Back to my biased little two cents; I was really rooting for our girls in the 10k there. Shalane Flanagan and Kara Goucher especially, I'm sure the 7th and 13th places respectively weren't what they had gone in there vying for but we all know that on any given day all we can give is what the legs are willing to put out.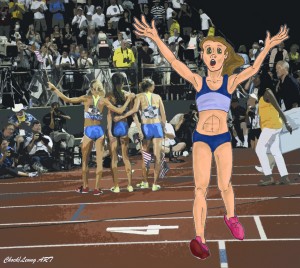 Kara though has shown her guts in just spiking up; she's coming back from a stress reaction in her femur…and should I also remind you that she did push a human being out from between her loins this past year…just saying. 😉 Still, I never counted her out of putting it all out there, she's one of the most mentally tough people I know. But again, injuries suck the big one and always have a 'nice' way of popping up at the least opportune time. Though, is there ever a good time for an injury? Me thinks not!
That said, all the athletes competing there have enough of the stuff to even BE there in the first place! And as a track fan it's fun to watch or read all about it. In the men's 10k there was a big upset in that Kenenisa Bekele didn't win the very first 10k he's ever entered; he actually DNF'ed. So the title went to a dark horse in a sprint to the finish, as much as it's sad to watch a great runner DNF it is nice to spread the gold medal love around I suppose?
Back to us regular runner peons…hehe. 🙂 Did anyone have a race of their own this weekend? If so it's bragging time! Just some easy miles for me with the distraction of some Disney. I wonder if Kara and Shalane were thinking of Disney related material while busting ther @$$e$ on the track? ;
Well, sorry to keep this short but back to the grind! Oh, before I forget…I need to address that for whatever reason stupid WordPress is now staging a revolt against me! All of my reply comments seem to disappear a few hour after I post them…I don't know what is up?!?! So, please don't think I'm ignoring you guys, I love comments and I reply to them! It's WordPress, maybe somewhere in a dark alley it is selling the comments it stole from me. 🙁
1) What was the most fun thing you've done this weekend?
2) Do you enjoy going out and watching/cheering for track races? Do you actually stay and watch the full 25 laps or are you a dork who uses that time as a potty break?
3) Last thing you ate?
Cinnamon raise English muffins.