Interval workouts. Speedwork. Running hard. Pushing until your legs are on fire and your lungs burn. Sounds like so much fun, right?!
I've said before that there is a difference between running and training. Hard workouts are the difference. They will make you faster, get you on the road to PR's and the separate the runnerchicks and runnerdudes from the runnerbeasts…beasts being a good thing. You see, in a sick sort of way we crave that burn of lactic acid and pushing ourselves. I think it's mainly because of the feeling you get afterwards…the feeling of accomplishment. And ya, the better times or PR's are certainly perks. 🙂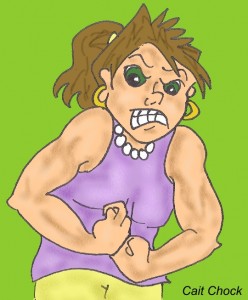 Intervals are just as much a test of the mind as the body. Sometimes even MORE a test of the mind, a battle of the wills, a battle within yourself. Personally, sometimes the HARDEST part of hard workouts are just getting starting, putting the first one down.
Yesterday I was on the precept of doing some intervals, I was watching the minutes count down constituting the end of my warm-up and getting those little butterfly nerves of getting started, "Here we go…let the good times roll."
I've found there are a few tricks on making bringing your best to a workout or at least gutting it out if it's not your best day or you just are feeling 'meh.' One of the biggest: LYING TO YOURSELF.
You read that right. I was doing 10x 3 minutes hard/2 minutes recovery and I took each one as they came. I sort of broke them into sets of two (ten minutes total) and just thought, "What is ten minutes, nothing." This worked and when I hit six I knew I was over halfway done.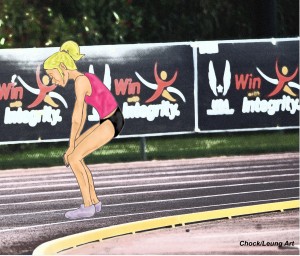 Now, the middle intervals are usually even tricker; you're feeling tired, not so fresh like the first ones, but the end is not yet feeling in sight. The tendency to let those one lag a bit is tempting and you catch yourself wondering if you're really going to be able to do ALL of them. But you can…keep lying to yourself. Also, ignore the part in your brain convincing you that those recovery minutes are WAY shorter than the hard ones, something must be off with the watch. 😉
So 7 and 8 I took them one at a time, and by the end promised that they were the last one. LIE.
9 you tell yourself it's just about the homestretch…don't let yourself mentally hold back or try to 'save some for the last one' because the last one usually takes care of itself.
And then the last one comes, you try to finish strong because the most successful workouts end working off of negative splits.
Now, this is another little LIE I love to torture myself with (I know, we runners are an off breed) I made myself do one more. Why?
When you think you can't do anything else, you usually can. So number 11…let's just think of it like our dessert. 🙂
1) What lies do you tell yourself during a hard workout?
2) Where do you stand on intervals, do you like the shorter/faster ones or the longer/endurance-based ones?
Need I even answer?
3) How is your week starting off, and what is on tap for you?

Related posts: