"So, I was talking to my podiatrist this afternoon." No, this isn't the intro to some corny joke, we're at a runner's blog so naturally this sentence should roll off the tongue and everyone should nod knowingly because they were doing the exact same thing a few days ago.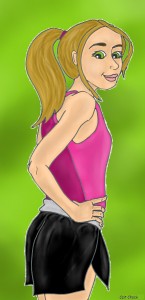 Back to what I was saying, I was seeing my podiatrist and we got to chatting afterwards. He's not so much a runner because of ankle issues but is really into cycling. This year he's going to take part in an especially grueling bike race, it's 140 miles and a killer climb…he mentioned the exact incline but I'm fuzzy on the number, sorry.
Now the man is a doctor and has two young children too, so he was a little nervous over whether he'd have enough time to actually put in the amount of training necessary. Typically you need to ride the bike longer than you do running (it's about a 3:1 ratio of bike miles to running miles) and that could mean hours and hours dedicated to a long ride. Runners can relate to the multi-hour long runs too.
I told him not to worry too much and he also mentioned that he'd read that one of the top cyclists is bucking the traditional training method focused on volume and more on shorter, intense rides. I piped in and told him, "Look, if you've only got an hour to train, do intervals, jack your heart rate up there. You can do it, you've just got to make those shorter rides count."

The good news is that he's already built himself a strong base, he's got years of cardiovascular fitness to draw upon so from here it's more a matter of maintaining that. Maintaining your fitness is far easier than building, and this holds true to running.
You'd be surprised at how well you can keep that endurance so long as you are still consistent and get in your regular, weekly long run. From there, if you're limited on time then pick two days and pound the intervals. The other days of the week still put in the steady cardio but it doesn't necessarily have to be an epic amount; realistically most of those days are going to just be recovering from the last hard workout anyways. You could even split the workout time up into two shorter sessions; a ride/run in the morning and then at night.

The key thing is keeping your heart rate elevated in the correct level.
Even on those recovery days you're going to still be working, and not totally plodding along. Then when it comes to the hard days, do a short warm-up and remember to cool-down but for those intervals really get after it. Aim to feel like you're working on a level 8 or 9 (scale of 1 to 10, 10 being all out)…we know what it feels like to work hard.
Play around with the length of hard intervals and the recovery time…do a day more endurance based with longer intervals (sets of 800's, milers…or do 3 minutes or 10 minutes going hard) and the second day focus more on speed with shorter, faster bouts. This could be 200's, 400's, or alternating 1 minute hard and 1 minute easy.
So long as you are CONSISTENT, keep at least one longer run, and get that spike in heart rate you've got the staples. Sure, if you've got extra time to devote to doing more miles or biking, then by all means go for it…though you want to be smart there and not over-train yourself. In the end training is really personal to the individual and it's more a matter of finding what works best for you and makes you feel ready come race day.
1) How do you go about coming up with your training? Do you have a coach or do you make your own program?
2) What are some of your staple workouts? Do you prefer the longer intervals or shorter?
3) Are you on a first name basis with your podiatrist? Not that you necessarily want to be, I mean we tend to seek them out with something is wrong!
4) Speaking of corny jokes, do you have one to share this fine Tuesday??

Related posts: