So kind of a hectic Tuesday. Forget the whole song and dance about Manic Mondays. Actually, I've always hated the part in that song where she is singing the praises of Sundays and says, "My I don't have to run days…" forget that noise. Yes, I'm nitpicky and if I want to hate the song just because it's hating on running I'll do that.
The GOOD news is that I'm finally with wheels! Hurrah, I've got a car…it's been a long time coming. Next stop DMV…and I'm not looking forward to that, so I'll push it off as long as possible. I think I have like only 10 days so not much time to push of the inevitable.
So I'm also excited because for the past few days I've been talking with a wonderful new runner friend, Aron, over at XC Nation. I have been known to blabber on about running forever and I may have met my match…in a good way, I love ya Aron! 🙂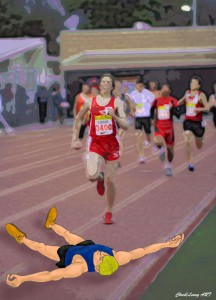 Anyways, so I've been learning a lot from him myself and hearing some amazing stories from; the people he's met, talked to, read up on, interviewed, and all that jazz. (PS- he's super hard core and ran a 20 miler at sub-six min pace, got gang green, had to have his toe amputated, went BACK out running soon after, got sick and had to go back to the hospital…but is back at it today. I mean, c'mon who really needs a toe anyways, Aron's out there busting out the miles! 😉 *that last part was said with sarcasm, remember that next time you try to come up with a better excuse to skip a run*)
It's a great site for high schoolers because it offers not just national rankings and current news but also schools them about the runners before their time that helped bring our sport to what it is today. It's also brought up a lot of memories from my own cross days and things I've learned from racing and running in general.
1) Running makes you tough…if you do it right. I think the reason our sport gets a bad rep is because even just our easy days aren't 'easy' I mean you're always going to get to a point of discomfort, that's the truth.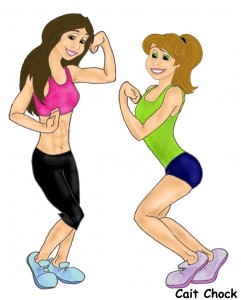 2) Running sucks but we love it anyways. I am a fan of those new shirts that read that, some people got all upset about them, but I like the slogan.
3) But there are times when we can be the creepers rolling along with a big smile on our face. I've done it, but maybe it only looks like a real smile in my mind…I always look horrible in any running picture I see!
4) The Runner's Inner Circle. It's there, we're one giant group, we 'get each other.'
5) Runners are quirky. I don't need to rattle off my lists of quirks, and I say this as a good thing to all you other runners. Now, I know there are the 'cool' runner people that outwardly appear to be sort of like the popular kids at the high school, and yes some do have actual fashion sense and don't wear running clothes all the time. BUT, even they have certain oddities that when you get to know them you can laugh and recognize, "Okay, yea, I guess all runners are a little quirky."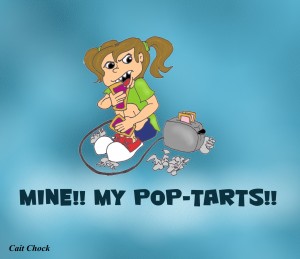 6) The power of Pop-Tarts. I guess that whole pro-high fructose corn syrup campaign should add some awesome pre-race fuelage to the list. I jest, I'm sure it's just crap food, but for a stretch of about four years I HAD to have my Pop-Tarts before my race. Now, later when I learned more and got more 'serious' I mixed it up…but do I need to remind everyone that Bill Rodgers used to slather mayo on cold pizza to refuel after his hard workouts and long runs?
7) Running teaches you about life. I don't know if I would have been able to face or deal with lots of 'life junk' if I wasn't a runner.
So, I'll leave this list off at the odd and random number 7. Some people call that a lucky number, I'll call it I'm out of time and gotta wrap it up number! Haha…happy Tuesday to you all and next time I hear that Manic Monday song I hope to start a flash mob in protest…we'll all rip off our normal people clothes and have on running gear and chant, "My I DO my run day!!!" 😉
1) Are there random song lyrics that bug you or you just hear them and they annoy you for some reason?
2) What can you add to our list about running?
3) Do people at DMV sometimes just make you laugh out loud?
Yes. A resounding yes.
Related posts: