If I weren't attached to my runner legs I'm pretty sure I'd lose them. I take the saying, "I'm the worst with directions" to an entirely new level…I make blondes look like GPS tracking whizzes I'm sure. Today I passed the right turn I should have taken, the one that is less thank 2 miles away from my home and that I've taken dozens of times and wound up a tad lost or turned around.

It got me thinking though,
do you know what one of the biggest culprits for lost time in races or when running workouts is? The case of the lost mind.
It happens to all of us no matter how awesome you are with directions and it happens on the track all the time even though I'll guarantee all of those runners know to
turn left and keep running straight
ahead.
What does a case of lost head look and feel like?
* Wandering Mind: You're in the middle of your workout or race, say miles 2-5 of a 10k…the adrenaline and excitement of the first mile has worn off, you're not quite close enough to the finish to 'taste it' and you're stuck in the middle. Here is where your mind can JUMP on the opportunity to shut down, meander away from you and get lost. Your thoughts drift to random things, maybe even blank nothingness, but wherever it is it certainly isn't at the task at hand. If you're noticing that someone is wearing your favorite shirt on the sidelines and ignoring the fact that your form has turned to the Hunchback of Notre Dame, you've lost your mind.
* This hurts, I want an 'out': Naturally we all think of this but we have to 'tame' our mind to forget this and distract it; usually we focus on what we can control (breathing, form, stride, etc.) or look at the person ahead of us to distract ourselves from the hurt. If you get stuck in the endless loop of: 1) Why am I doing this? 2) I'm not even half-way there yet, how will I ever make it? 3) Today's just not my day, I'll just give up, who cares? You're focusing TOO much on the pain and trying to come up with an 'out' for yourself. Be honest here, are you looking for an excuse or do you actually have a legitimate reason to stop?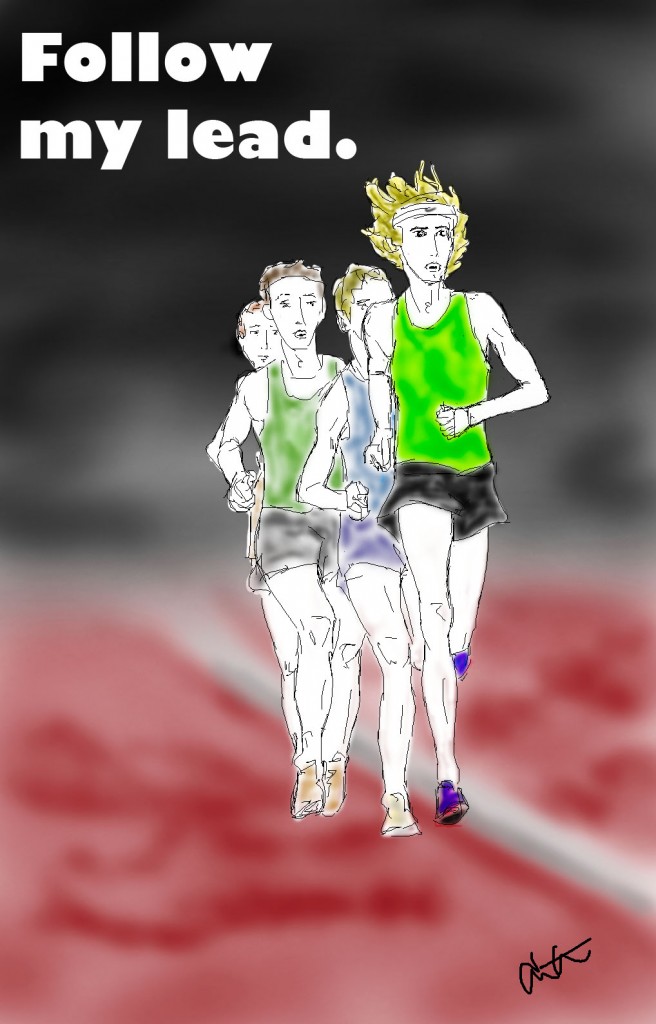 Catch it! The sooner you catch your brain and wrestle it back from La-la-la Land the less time you've lost from your race and your workout. But if you wait to long, by the time you check-back in you could have only 100 meters left in the race, and really who can't run fast for the last 100 meters? By that point you could have needlessly lost a PR or the place you hoped to run.
What SHOULD you be thinking during a race or workout?
* How is my form? Do a form-check.
* How is my breathing? Breathe from your deep belly, not shallowly from your chests, and keep it controlled and smooth.
* Where am I going? Look straight ahead, if it's on the roads look for the tangents to run, actively be seeking and looking to the horizon. It may sound 'dumb' but never loose sight of where you want to go. This go tri-fold if you're climbing a hill…look high to the crest and lock your eyes on that point.
* Who is ahead of me? Key in on who is in front of you, work on 'picking people off' or not letting a gap open up between you and the competition.
Zoning out and letting your mind wander are two different things. Zoning out is when you're focused on one of the 'good distractions' just mentioned, you're still present in the moment and 'working' the race.
Getting lost in life is annoying and a wast of time…getting lost during a race or workout is also a waste of time but you're also jyping yourself. You're there, the course is marked, don't visit La-la-la Land. 😉
1) A wandering mind on an easy run isn't necessarily a bad thing, here is where randomness helps break up the repetition and can work as a great way to stay consistent and GET the run in. Does your mind tend to wander a lot on easy runs?
2) How do you keep yourself from checking-out during a race or hard workout? Do you have a trick to catch yourself and pull your mind back to present?
I usually do a form check.
3) To battle the 'cop-out' and actively look for an excuse to toss in the towel for the day, how do you handle that?
I assess if I actually have an injury that would warrant a stop; if not then I remind myself how I'd feel in a few hours if I quit…probably not too happy with myself.
4) Anyone racing tomorrow? I know it's been a big weekend for races, some have happened other are tomorrow! Good luck to those yet to race and if you already have, brag on yourself. 😉
Related posts: