Everyone's talking about it so now I will too, the woman who gave birth after the Chicago marathon. I've read people making jokes, being outraged, and some people I guess just plain don't care, they've got bigger things to occupy themselves.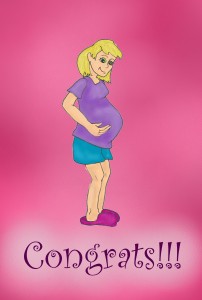 I did read a really funny one that I will cite from our own TX Runner Girl, "running a marathon = your uterus falling out."
Here is where I stand. My mom has had four kids and ran up until the day she popped for all of us; she was lucky in that all of her pregnancies were relativley 'easy' and she didn't get any bad morning sickness or other issues. I've had friends who were runners and hard-core fitness folks who also were able to run, even train through theirs.
Kara Goucher is one example and she goes into plenty of detail in her book and has talked about it on her blog. There is also Paula Radcliffe who has been open about both of her experiences. The thing is, I feel that if you can and are willing, why not exercise or run? Of course take the necessary precautions, but if your doctor gives you the green light, I'm all for it.
That said, none of them ran a marathon while pregnant. I know there is the exertion level to take into consideration. I've never been in the situation myself, but I feel that it's probably not a good idea to go for broke or empty the tank in hard workouts in the final stages of pregnancy…just a thought.
So running the marathon? I read she did it somewhere over 6 hours, so she wasn't blazing…that said she was on her feet for 6 hours and that takes a toll. Apparently she ran two other marathons while pregnant with her other two kids, this one was just the closest to the actual delivery…contractions just past the line and 7 hours later, welcome new baby.
Seems like all is fine and healthy…maybe she was just tired of being pregnant and figured, "What the heck?!" Some choose spicy foods, she chose a marathon. But I guess I just ask, "Why?"
I love running as much as the next person, but couldn't she get the same kind of endorphin rush off of a 'regualar' run? Maybe she signed up a long time ago and just couldn't stand to see all that entry race money go to waste. Heck, actually, that right there could be it, take that race directors and your insanely high costs! 😉
1) This is a rather extreme case, but I've done some pretty crazy things to get a workout in too. Do you have any funny/embarassing/quasi-ridiculous stories where you just had to get that workout in?
Quite a few, but some I don't even want to put out there…haha. I guess one I will say is sneaking out during my 'break' for a quick run in the wee early hours. I got back and one of my siblings had woken up in the middle of the night and noticed the door unlocked so they locked it. Locked out, I was caught. 😛
2) Running with a second person in you seems very odd to me (having a second person seems odd), if you have been or are pregnant did you run or workout? If not, do you think you would?
I would.
3) Everyone's about Taco Tuesday, I love Mexican food, so what is your favorite Mexican place?
Don't hate, I know it's not 'real' Mexican, but I love Chipotle. 🙂

Related posts: