In case you've lived in a bit of a running cave, or don't follow running all that much, there were some pretty big time races going on this weekend. We saw American Records being broken left and right, the family tradition of a running legacy continued, and even some late season cross country races.
Regardless of if you ever plan on chasing a record, have the desire to spike up (or racing flat up) ever again or not…here are some things we can all learn from this weekend in racing.


1) There is always someone better than you and someone working to be better than you. In a nice ironic twist, at the USATF Indoor Classic Galen Rupp broke the American Record for the indoor two mile event with 8:09.72; he took the record from Bernard Legat. The same day at the Millrose Games Bernard Legat reclaimed the indoor 5k record with 13:07.15…he took it back from Galen Rupp. Read more details and see video at Paul Merca's site.
The lesson here is that no matter how good you are and continue to be, there is always, and will forever be, someone looking to beat you. This goes for anything; it's a good thing as it inspires you to push harder and never settle. You've got to stay on your game and keep working hard if you want to stay in the game.


Source: Photorun.net/Letsrun
2) ALWAYS run through the line. I think this picture says it all…from the USATF Cross Country Championships Molly Huddle (right) thought she had the win a hair too early. Sara Hall ran THROUGH the line, pushed it to the end, and ended up snagging the win.
Lesson here is the obvious don't ever ease up or count your victory until you're past the line; but going deeper, don't ever assume anything. You know the old saying there…but it's true. From both perspectives here: 1) There are no sure things in racing…now, obviously if you're 100 meters ahead and going to the line the odds are highly stacked in your favor and a little celebrating would be a safer bet. But still…even if you're the World Record holder, when you get to the line there are no guarantees that you will come out the winner. To an extent we're all equals once the gun is fired. 2) From Sara Hall: Don't ever give up until it's over. Racing should spur in you the urge to dig a little deeper and rise to the occasion…when it comes crunch time, search for that other gear, lock on to the competitor ahead of you and work to close the gap. Charge to that line and run all the way through it.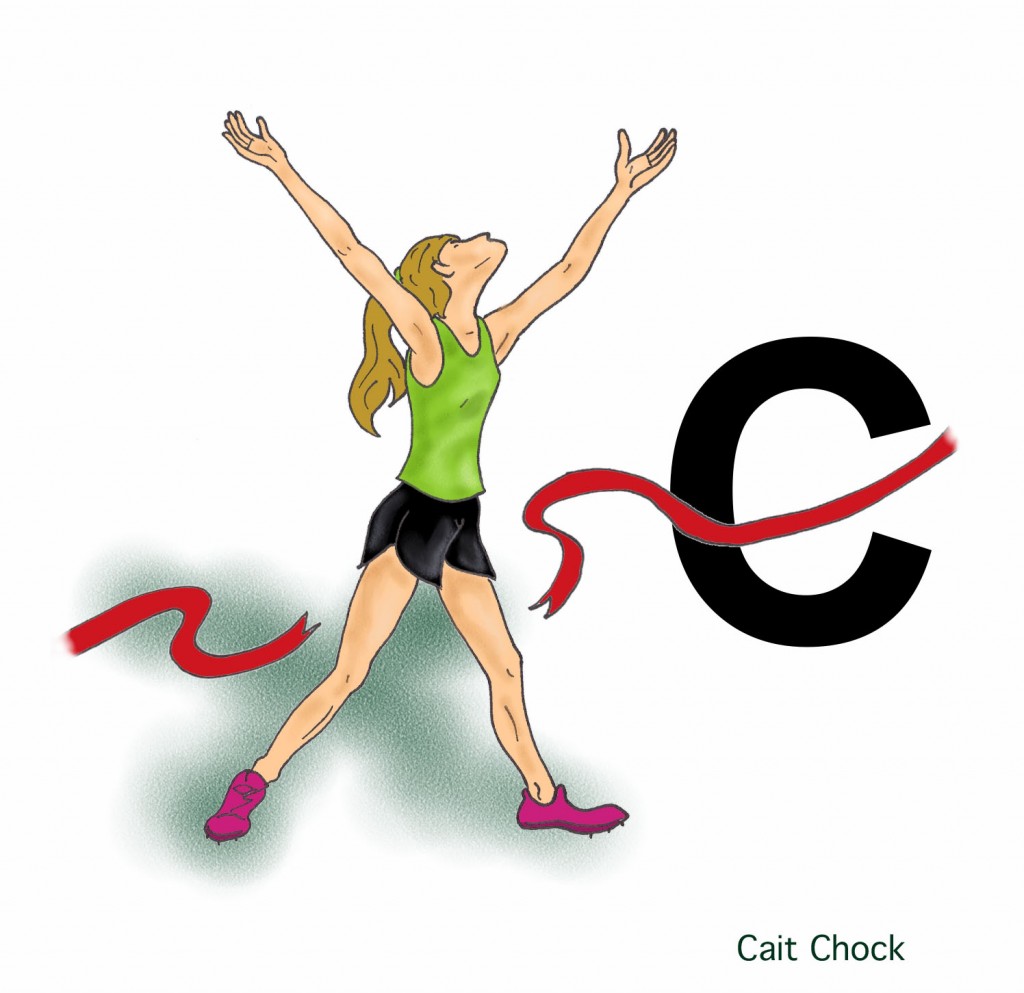 3) Onward and upward…things are always moving forward. In case you're unaware, in recent years the times of top harriers have dropped remarkably in distance events. For the first time in decades Americans are also a part of the surge and mixing it up with the Africans. This applies from to the pro's, the collegians, high-schoolers and road runners alike.
In Friday's Husky Classic, Sally Kipyego won the women's 5k race in 15:15.41. In doing so she ran the world's fastest indoor 5k this year but behind her a whopping eight collegiate women ducked under the NCAA automatic qualifying time of 16:04.50…that's quite a field. Read a much better and inclusive recap of those races at Paul Merca's blog as he recounts.
Lesson here is that competition and surrounding yourself by people who are BETTER than you or at least on par is not only the best thing for you but the best thing for the sport. (Or whatever it is you are working towards.) If you want to get the best out of yourself, for whatever goal that is, you have to push yourself…push yourself harder and then some more, past what you think you are capable of. To do that, having someone ahead of you and also right on your butt is a sure fire way to make you dig for that extra gear you might not think you have.
That's it for me, and I hope you're all having a great weekend!
1) Were you following the big meets this weekend? Do you follow the sport of running; what sports do you follow?
2) Do you agree with or see any other lessons to be pulled from this weekend?
3) What did you do this weekend? Any races yourself?
Related posts: