Let the #CoreandCake Party get going, Runners! 🙂 I'm going to start by showing you a quick core routine that you can do post-run. It's short and sweet but effective at hitting those important core muscles, so there's NO excuse for not doing it because you can whip it out fast.
I've got some picture demonstrations for a few of the ones that might be trickier to explain. Truth: I actually did a video but I think I've already grown tired of my chipmunk voice, so opted for the stills. 😉
Here's how it works, there are group of exercises. Work up to doing three sets of each group, do all the sets for each group before moving onto the next group. Try doing this (or at least SOME core work) three days a week.
Group A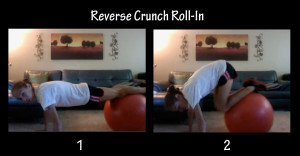 1) Reverse Crunch Roll-In's — Set of 16
2) Ball Crunch — Set of 30
*Note: for the middle set, I like to mix it up and do the crunches alternating side to side.
Group B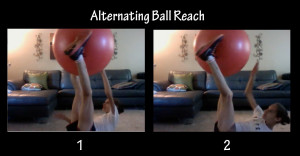 1) Alternating Ball Reach — Set of 30
* Alternate reaching opposite hand to opposite foot; 30 total, so 15 each side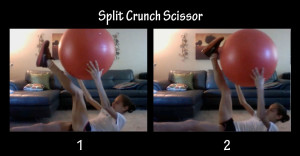 2) Split Crunch Scissors — Set of 16
* Start laying flat, as you reach up to center with the ball bring your left leg up towards the ball. Lower back down then bring your right foot up to the ball. Repeat.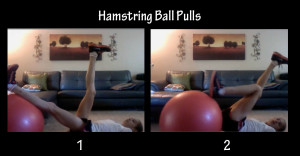 3) Hamstring Ball Pulls — Set of 8 for each leg
* This move works in three phases, and similar to the BRIDGE EXERCISE DEMO I did but up on the ball. Start with one foot on the ball and back flat on the ground, lift your butt up so you're doing a bridge on the ball, then roll/pull the ball in towards you. Roll out, lower your back down to the ground out of bridge, then repeat. Then switch to other leg.
Group C
1) Push-up — Set of 10-15 (Modify on your knees if you have to.)
2) Chair Dips — Set of 10
BAM!! You can't tell me you can't bust that out in 10-15 minutes at most. But the benefits to your running are incredibly important:
* Strong Core = Efficiency. Build up your core and 'weaker' muscles so you're able to hold better form as you run. Maintaing proper form, even as you tire, will keep you more efficient…read as faster.
* Strong Core = Less Injuries. You got it, most injuries are a result of an imbalance that result from a weak muscle. Fix those so you don't wind up injured and not running at all.
Oh wait, we forgot the OTHER major benefit, you do your core and you get cake too! 😉
#CoreandCake Party Phase 2…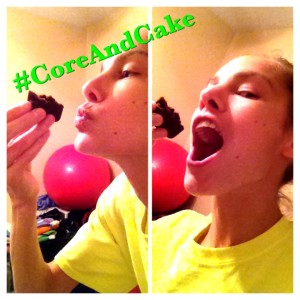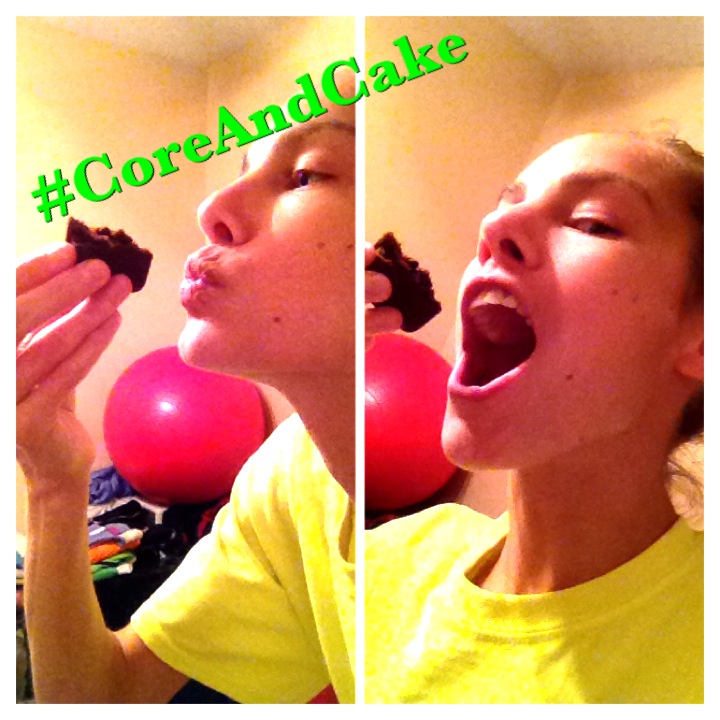 Nom.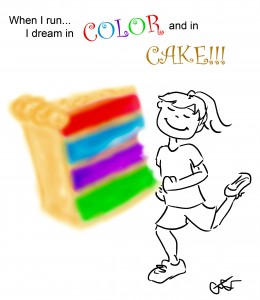 Nom.

Nom.
Nom….check it out, #coreandcake goes #SweatsintheCity style in my
Ezzere Run Your Fortune Tee
!!
Check out the AWESOME Lisa @ RunningOutofWine because she's celebrating all the #coreandcake goodness over at her blog too!! 🙂
Thanks all your runnerchicks and runnerdudes for coming, now go get YOUR #coreandcake on too! Don't forget you can tweet/insta/social media #coreandcake all day, seeing hardworking runners devouring their just desserts always makes me smile. 😉
1) How often do you incorporate core work into your routine?
2) What's your favorite kind of cake, or any dessert?
3) Have you partied down with Lisa yet too?? If not…you best head on over NOW!! 🙂
Related posts: