Our minds are experts in construction. They will build up fences quicker than nobody's business. It's actually a survival method, the brain 'thinks' it's looking after our best interest, keeping us safe by setting limits.
The problem is that this survival method is archaic and antiquated, most of the fence-building is stopping us from pushing ourselves in work or running rather than stopping us from trekking too far from our caves, getting lost, and gobbled up by a dinosaur. 😉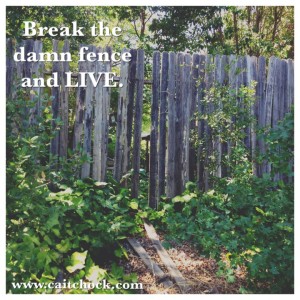 In breaking down your fences you are freeing yourself. Because on the other side, THAT is where you can push yourself to your best. The other problem with fences is that they stop you from even dreaming, or imaging that something epic is 'out there' that YOU could possible accomplish THAT! Fences keep you safe, in a comfort zone, they also suck because they rob you of really feeling and experiencing.
We can easily relate this to running in a few ways:
1) Goals: if your goals aren't big enough to scare you a bit, they should be bigger. That said, you should know that working towards something BIG is HARD. That's the point, that's what makes an accomplishment fulfilling though. Just don't be fooled into thinking there won't be times where you want to stop…that's where true self-motivation and dedication is tested.
2) Going in over your head: everyone needs to be in the position of going in over their head, a few times, and get comfortable with the fact that, "Yea, I might bonk" because, "Yea, I might not bonk and break through to a new level." There are times in races where you need to not look at the clock/watch/split and just race, get swept up in the faster group…this can be in workouts too.
Confidence is a funny thing for a runner, and the watch can do wonders for it but it can also sabotage you if you 'think' about it too much. Example: "Holy crap!!! We're running XXX pace, I can't hold this…what am I doing running with these people, I don't belong here?!!" This runner can either be intimidated by the splits or check in with themselves and realize they were actually feeling fine until they freaked themselves out. They might blow up later, but they may not, they may have their best workout yet. Either way though, sometimes you need to just stick your neck out there, break the fence.
Important to note that, duh, you shouldn't always go on some kamikaze mission in workouts and races. I mean, a 7 minute miler shouldn't go workout with the 4 minute miler group…let's be sane here. The point is that for the most part, runners DO need a little push every now and again to break through to the next level. Surrounding yourself by some faster people is a great way to do that.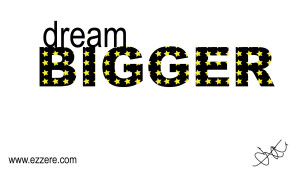 3) Mental 'fences' pain signals: for runners the vast majority of fence building is stationed around hard workouts and races. Your brain wants to STOP pretty much the second you start…haha. Steve Magness wrote a really great post all about the brain, willpower, emotions, and how that relates to a runner's mental toughness. It's a long read but incredibly interesting, worth it, and touches on quite a few different points, tackling it from multiple angles.
He talks a lot about willpower and how fatigue is actually an emotional response rather than a physical one. Really interesting because when you think you're 'tired' it's really only your brain reacting, worrying that you're GOING to be too tired later to finish and shouldn't continue. He goes on with lots of ways a runner's willpower and mental toughness to combat the pain signals from the brain are affected. Things that make us more easily swayed to stop rather than push.
Proper recovery like nutrition and sleep are two factors…another reason to think of your training in the big picture sense. But another big mental toughness inhibitor is stress. He phrases it more as using your willpower reserves up on less important matters, but the explanation is that your brain can really only handle so much. The more taxed your brain is going into a workout or race, the less it will perform. Read as: the weaker it goes into the race, the more likely you are to cave to its complaints to relent, slow down, or stop.
Go read his full article HERE because really, there's so many interesting points that make you think. A runner's mental toughness is something most all of us are fixated on because it's not finite, it's kind of like an intangible that's hard to explain with science. But Magness is actually able to show how science is closing in on giving us some cool explanations and theories.
The bottom line is: Runners, scr*w those fences. Start breaking them down and in doing so you'll find that's where the truly epic sh*t lies.
——-
More posts on MOTIVATION
——-
Related posts: