Runners, it is my firm belief, tend to have a different set of 'possibles.' More correctly they can set their sights on what a 'normal' person would think of as IM-possible, put their head down, get to work and keep plugging away. I also believe runners tend to be more stubborn, grittier, and have a higher pain tolerance than most folk…honestly I think it's because we're just so used to suffering with running everything else in our mind gets a little skewed. "What, that blister takes up nearly my entire arch, just a minor flesh-wound, Neosporin that sucker and put your running shoes on!" 😉



I like to make light of my who car accident debacle because I just do that. I poke fun and joke around at things even if logically they aren't that funny. It's a coping mechanism probably, I mean it's much easier to keep moving forward and stay positive if you're able to laugh at yourself EVEN at your worst.
I don't like to talk too much about my whole car accident though, mostly because I don't want people to think I'm 'working it' or like I'm bragging. Sure, yes, I'm kinda proud of the fact the doctors were floored when I finally came back to report I could run again; the surgeon was sure I wouldn't even walk right. BUT, the thing is, runners all around, all the time are constantly doing these sorts of things.
Dick Beardsley has an insanely inspiring story, he was a pivotal person who kept me going and instilled in my mind that I'd run again. I will forever be grateful to him. There's the stories of the runners who have actual amputations and run with some awesome prosthetics.
Even without crazy accidents runners are ALWAYS redefining what is possible, the proof there are in the record books. Do we not in fact keep shaving those times down lower and lower? Are there not constant debates on if we really will see a woman break such-and-such time, will a man dip below the two hour mark for the marathon?
Runners are always faced with injuries, surgeries, that raise the question if they will ever get back…and then will they get back to the shape they want to be. The thing is, when you have running stripped away from you, brutal as it is, when you look into the 'possible' future of what you're life would be without it, you probably don't like the picture you see. When you shudder at that picture you often make a pact with yourself, "If I get back to running, in any form, I will not take it for granted."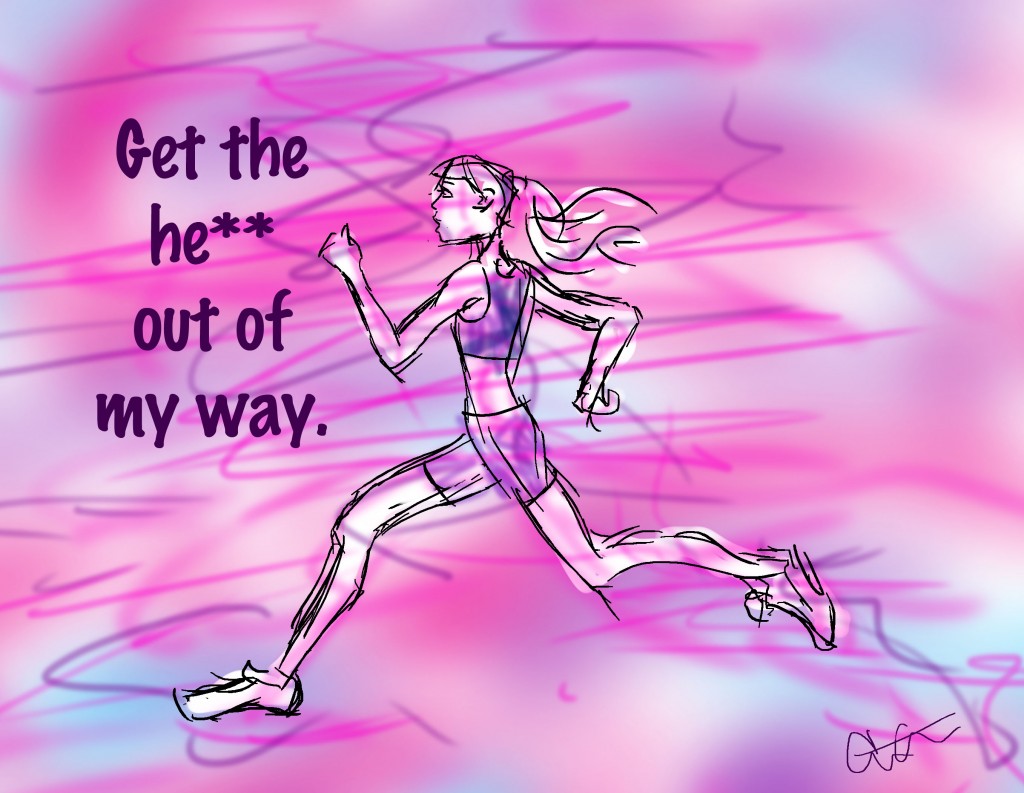 I've been there, lots of people have, and I think it are those haunting images of what a life without this running, our little drug of choice, are that keeps us going to redefine 'possible' and then create our OWN 'possibles.' So even on those crap-tastic runs where we feel anything but on cloud nine, we appreciate them deep down.
Not that anyone should, or has to settle for just running alone. There are still times, PR's, races, titles, hopes and other goals that can be chased; things that take training, not just running. I love watching and hearing about people creating their own 'possibles' there and chasing those goals…but I also know running presents incredible highs and lows. Our sport sort of runs the line like an EKG with all those spikes; heartbreaks on the heels of triumph and vice-a-versa.
Runners can get lost in those lows sometimes and their goals abandoned, the sport can break them; to avoid that takes unwillingness to get stuck in a depressive rut during those lows. Keeping perspective and remembering that a life without running at all, on any level, is not the picture of a future you have envisioned for yourself.
Perspective: Be grateful for the run. When you're nervous before a hard training run, race, or don't even want to get out the door…strip it down to the bare bones, the root of it…be grateful for the simple act and remember why you do it. Chuck out the window unnecessary pressure, stresses, or worries, put your head down and get to work on creating your OWN 'possibles.'
1) Was there ever a time, event, or injury that begged to question if you'd get back to running as your former self?
2) Was there ever a time or injury that seemed to drag on so long you thought it would never end? How did you deal with it?
Day by day, people…only way! 🙂
3) Where is your running, are you running just for the fun and love of it or are you training? What keeps you going and why do you do it, when it's all stripped down to the bare bones?
4) What is a 'possible' you are currently working towards creating for yourself?
5) What is one 'possible' that you achieved and are proud of that others thought of as IM-possible?
Related posts: