Let me school you in a bit of my runner logic…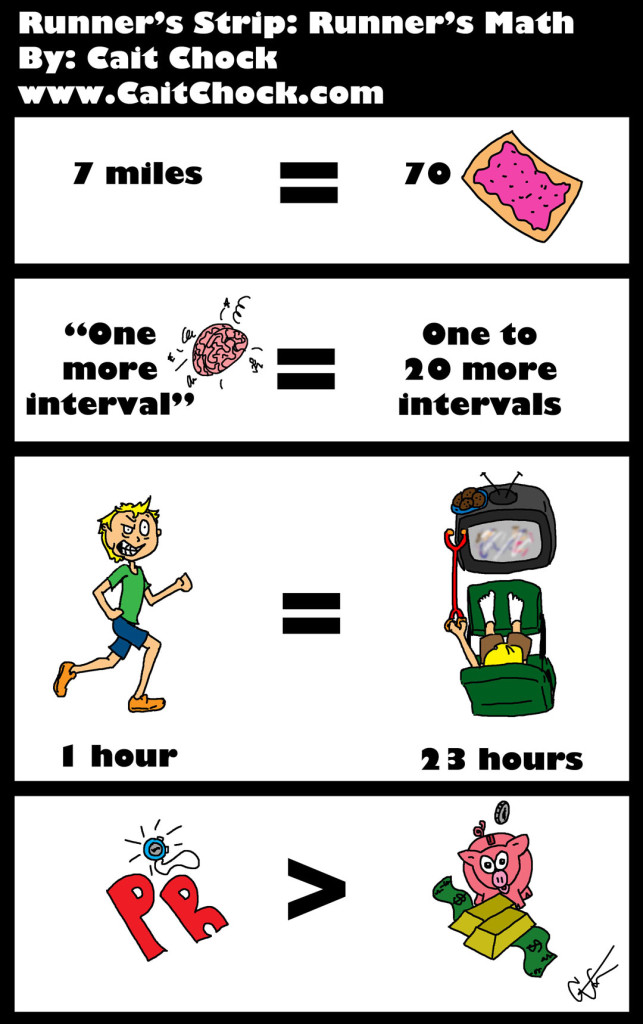 If math isn't your forte, we'll just blame it on an oxygen deprived brain. I mean, c'mon, all of that precious O2 is going to our muscles where it's needed FAR more. So if our math isn't quite adding up, we'll just blame it on runner logic and oxygen debt.
But regardless, if you want to finagle with my numericals there go for it…but I will argue with you to the DEATH that consuming 70 Pop-Tarts isn't fully warranted. I'm a runner…I burn it off. 😉
——-
Well, even if that engine is burning red hot there's much to be said for still eating with performance in mind…read my much less Pop-Tarts tongue-in-cheek posts HERE and HERE.
Here's my post on timing your fuel pre-race and then post-run.
More Runner's Strip Comics.
——–
1) Give me your own running math equation!
2) Do you embrace the 'lazy runner' logic…as in you EARN the right to sloth around after a run?
3) Finish this sentence: A PR is worth more than…
Check out my own little schpiel on PR's. 🙂

Related posts: