Now, it's interesting how different people act after finishing races, or hard workouts too. Outside observers then tend to assess just how hard the athlete ran depending on the looks of anguish, falling to a heap, or tossing their cookies.
Though I sort of think that can be really misleading…
* Sometimes the fastest or best races of one's lives come in the form of those rare, freak, awesome beyond awesome races where they feel 'easy' or at least eas-ier. Everything lines up and even during the race you sort of think you're having an outer body experience like, "Am I really running these splits…are these really my legs doing this?!" You just roll with it and after you cross the line you're ecstatic with the results…you no doubt KNOW that you're tired, it's just you felt amazing and so you might smile and it might 'look' then that what you did was easy.
* Sometimes you see arms thrown up, crossing the line with fists pumping…here it's the adrenaline and excitement that temporarily masks the pain. I'm sorry, you win a Gold Medal, I think you gather the reserves to let that excitement burst through.
* Yes, dropping to the ground surely shows that you're tired and left a heck of a lot our there. I have the highest admiration for mental grit and getting the most from yourself. BUT, just because you don't drop to the ground that doesn't mean you didn't punish yourself enough…in the end YOU know if you did or not.
* Tossing your cookies…here is one where I think it depends a lot on the runner. Lots of people play up the, "Wow, you barfed…THAT means you're the toughest runner around…THAT really shows you pushed it," but really, throwing doesn't necessarily mean that you're macho tough, there are other factors involved. Yes, it surely could be that you just put it ALL out there, or it could mean that you shouldn't have had three hot dogs 20 minutes ago. Finally, sometimes people do throw up if they ran outside their fitness level…props for pushing it, but maybe it means they should have built a little more base or not taken that whole summer off.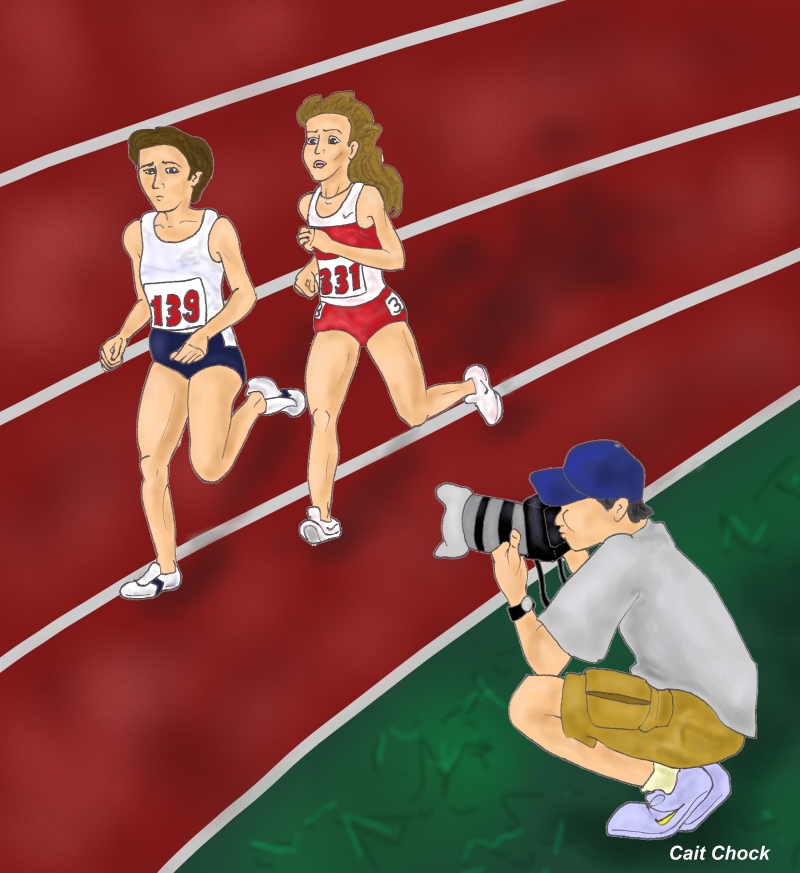 I think what it really comes down to is the particular athlete and how you tend to respond to the excruciating pain we willing put ourselves through at times. 🙂 No bagging either which way; some people are barfers but just because you're not a puker that doesn't mean you're not running hard. Similarly, different races and workouts certainly feel a lot different…having one of those magic days will no doubt leave you finishing looking a lot different from one of those races where from the gun you feel like you're running with legs of lead.
Outward appearances are misleading…some of the fastest harriers make it look effortless as they click off lap after lap. They look like machines, their form is pristine, no wasted movements, their faces stoic. They are running relaxed…but for darn sure you know that behind that mask of effortless they are working their tails off and it's hard for everyone.
It's never easy…I mean even in those awesome beyond awesome moments it might have felt eas-ier, but it was hardly easy to get to the moment. It took months, years, zillions of miles and way too many hard workouts you'd care to remember.
It's never easy…and so that's why we need a little extra motivation now and then, to keep reminding ourselves WHY we keep doing this. But then we remember we really it. Yes, we love when the stars align and we get one of those awesome beyond awesome days, but also we just love the thrill of kicking our own butts.
1) How do you usually look after races, or hard workouts? Do you tend to do the hunch over, the drop to the ground, the hands over head?
2) Have you thrown up after a race of hard workout, do you tend to just do that regardless of pre-run food choice or fitness level?
I've never thrown up, but I can really close once…it was my first race and had run maybe one or two times before that. 😛
3) How do you try and stay relaxed when you're running hard?
I try to focus on keeping my form, keeping my shoulders down, and then staring straight ahead at a specific point (like the back of the person ahead of me) to try and zone out.
4) Those awesome beyond awesome days, have you had one, how many, and do you remember it clearly?
I think I've had one or two…and I remember clearly thinking there was something wrong with the clock. 😛
Related posts: