Happy Saturfarts to all! I hope you are having a great weekend thus far, and for those that raced do feel free to brag on your fine selves, I want to hear all about it!
Today, I think I finally need to bring something up. I hope it doesn't offend any of my lovely lady bloggers because I think it's something that may be a little touchy subject. Running skirts.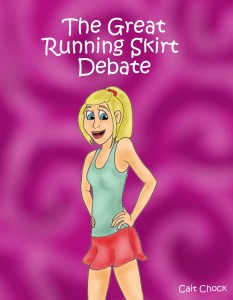 Okay, let me start off by saying that since they've been around they've become more and more popular and I've seen lots of people wearing them and my tolerance for them has grown as such. I actually will go out and state that I've seen pictures of some friends wearing them and they do look cute, but here is my dealio with the whole running skirts thang.
When they very first were about to come out, I was working at the Nike World Headquarters up in Oregon and so I saw the wear testers doing the whole testing and fitting then first. Right away I said to a very good friend of mine (he's a guy and shares my snarkness…we were probably twins separated at birth and a couple of years removed) "What in the heck is that??! What are they doing…those are the stupidest things I've ever seen…I hope they don't actually start selling those things. I swear if those things take off I'm going to flip my top!"
Well, they did hit the stores…they did take off.
Here was my line of thinking, hear me out. This tomboy sort of saw them as yet another attempt to 'girlify' our sport. Here we go through all these great pains to be seen/treated as equals and now they go and bring back the skirt? I mean we already have to fight and scour shelves for any article of clothing that ISN'T in a pink or similar color palette.
On the competitive scene, girls already get plenty of flack over the fact that yes, we will forever run slower than the guys, but dang it that's genetics and women pros are still stellar and deserve the same level of respect. They put in the miles (albeit generally less overall than the males but again that is mostly due to body composition…and if you totaled up the amount of actual time spent running versus miles the gap is even less), bust out the repeats, and can be just as gritty as the dudes. There have even been college/professional level coaches joking that, "Eh, it's just the women's races, they don't count all that much."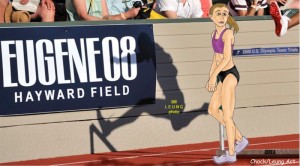 So that's where I saw the skirt as a bad direction for our sport. I will admit I did cringe when I saw a few professional ladies even wearing and talking about liking the running skirt. I dunno, that's just me. I haven't ever worn one myself so maybe I'm not giving them a chance out of just principle and being a dorkette….that and the fact that I don't even own a normal kind of skirt.
I'm also super picky about running shorts, so there is the comfort issue. I think the skirt part would only keep getting bunched up and 'eaten up' by my thighs and that would annoy the heck out of me.
So am I just being way overly feminist about this issue, girls? Like I said, in the years since I've seen more and more people wearing them, some of them friends, and I don't hold it against them necessarily, but I still don't ever see myself donning one of those running skirts. That's just me.
1) Running skirts, have you ever worn them, where do you stand?
It's sort of funny that I pick THIS topic to go on a rant about, particularly since I'm not one of those people who tend to go all overboard with reading into social things and women's rights. Haha.
2) If any guys are reading this, what are your thoughts? Do you think running skirts are stupid or do you think they are 'cool' or whatnot for ladies…obviously you might not want to wear one for other reasons.
3) Anyone race today, if so how did it go? If not, what was your workout?
Love affair with my treadmill today (a bit over 9 miles) followed by ab and core work.
Related posts: