Well, I have to say the big fat man was good to me this year! Bear with me as I take a quick moment to get a wee bit sentimental as I am one lucky runnerchick to have such an amazing family and wonderful friends…it's been a great past few days as we've made the holiday tour of duty!


Woke up today and decided that it's never too late to try and give Rudolf a runfor his money. I lost, but I did get in a little tempo run on the treadmill…even had the distraction of the last dregs of Christmas movies playing. Then because of this little foot of mine I did my cool-down on the elliptical, all in all a great way to start the day, though I was especially tooty-fruity, I guess those last bits of sweets last night put me over the edge!
Now on to the REAL news here, THANK YOU Santa for the Garmin!! How did you know? Actually I was fully surprised since it must have cost you an arm and a leg, but maybe you were able to outsource and substitute the appendages of some poor, unlucky elf…I only hope for fairness he was on the naughty list.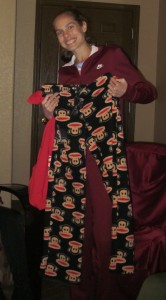 You also know that it's the stocking of a runner when there are sports bars and socks mixed in with the candy-canes. Though, the Paul Frank pants wouldn't make for a right pick for getting my sweat on…


I also really loved the bracelets my sis got me: Trust Your Journey charms, one for each of us.
I hope the parentals enjoyed what I got for them…I promise I didn't get it all sweaty. My mom is a bit of a sucker for the 'personal touch' type things so I did her a bit of art and got it screened onto a purse. A portrait of my two younger sibs…
For the siblings I got them a little something but really I know there is nothing like adding in the cash money.
The gifts though aren't the holiday (wow, I think I may actually mean this, which means I am no longer my 8 year old self…I'm getting old) and the true joy was in fact just sitting around and chatting it up with the fam bam.
1) How as Santa to you this year? Were you a good runnerchick or runnerdude?
2) Did your own workout offer you up a not so tasteful reminder of the last few days of foodfest, I only hope the burps had the air of candy-canes or something sweet?
3) Name one of your highlights from the holidays.
Me: "Which one is from Santa, which one do you want me to open up first?"
Dad: "The present that says 'From: Santa' on it."
Related posts: