Today I had a meeting with a local running shoe store to talk about some marketing work; creating a newsletter, adding some content to their website, and generating some ideas to let everyone know that yes, in fact, Fleet Feet Fair Oaks is THE best running store around. 🙂

Actually, side tangent here, I love how it's come full circle, Fleet Feet was my very first job ever when I was back in high school. I had a blast learning about shoes, getting to interact with runners and get paid, plus I didn't hate the discount I got…let's just say most of my paycheck went right back into the store. Now I'm back but doing other work…still getting paid to be around runners = winning.
Back to the store today, on my way out I noticed some screened tee's and the manager told me that they are always looking for fun new phrases to put on the tees. One of the ones they had today was: 'I run so I can drink beer'. I think that resonates with plenty of folks, but here are some of the one-liners that were rolling around my head:
* Running fueled by Pop-Tarts (you could really insert anything here, we all have our addictions)
* Miles-a-holic
* Obsessive Compulsive Runner (actually, this is my favorite and I've wanted a shirt with this screen on it for years)
* Run Muddy (trail season is upon us)
* I'm a girl and yes, I can beat you, nice try but I can hear you panting like a dying dog
* I feel a fartlek coming on
* Running addict…I don't plan on reforming
* Clydesdales: We do it louder and prouder
* Thank you for stating the obvious: I'm skinny. I run and I could eat you under the table.
* Don't talk to me until I've had my endorphins
* I'm injured: I withhold the right to be a bi***

What do you think, would you buy a shirt with any of these on them? Probably not…
On another note, we also got to talking about what is motivating to runners. I think that is pretty broad; some people would say world record setting races, races with an underdog upset, athletes who have battled back after terrible injuries/tragedies, someone finishing their very first 10k when before they never thought they'd finish a mile, a high schooler who never made the scoring team rising to the occasion and helping their team to a surprise victory, a busy mom who also works and still finds time to train like a maniac, a 100-year old man finishing a marathon…the possibilities are limitless.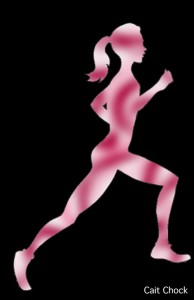 What I think it comes down to is what you connect with. If your aspirations are of PR's and faster times then perhaps you connect more with the Seb Coe races, the Shalane Flanagan performances, the Usain Bolt show-downs. Though if you are new to the sport you might connect more with the neighbor you've seen running for years and watching them achieve their personal bests. Maybe you connect with a parent; you never believed you were a runner or that you could keep up with your dad but then comes the day and you're running alongside him…gasp, maybe even beating him. 😉
What's great about our sport is there are stories that range from Olympic medals to finishers that still push themselves to the finish line even if the race crew is breaking down the course. We ALL get out there and put the miles in…heck, there may be no race at all, just you, your feet, and the miles between.
1) Do you have a running shirt slogan you'd like screened on a tee?
2) What are one of the biggest 'perks' you get from being a runner?
3) What motivates you the most in terms of running stories or feats?
Related posts: