Good things can come in threes, but then again plenty of awesome things come in twos and fours. Runners have two legs, four laps make that perfect mile…though do those four laps REALLY feel all that perfect when doing mile repeats??

Brain: "FOUR laps, let's call a mile one lap!" Juuust kidding.

Sometimes a runner just needs to rock it old school style and get back to basics. Look beyond the Garmins, the heart-rate monitors, the target zones, the iPod/iPhone widgets, connect this, upload that, FitBit, BodyBug, BodPodWod, run-a-shoe-whiz…you get the picture.
The tech world is awesome, it's always providing us runners new ways to trick our run. But even the most pimped out of sports watches won't do a thing if the legs aren't there. Same goes for running shoes that seem straight out of NASA.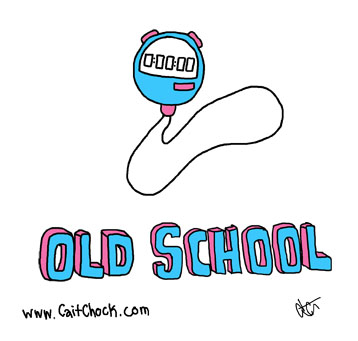 All the new running gadgets are training tools. Tools, nothing more. A tool is there to provide feedback, help guide you along. Certainly tools can be powerful ways to improve your training but a tool is not a God. Your Garmin is not, wait for it, a God.