"Listen up, I'm about to drop some knowledge on you."I thought it would be fun to issue a little running test…time to school up, strip down to your skimpiest running shorts, and prove to the class just how smart you are true or false style. 🙂
1) Warming up will only zap my energy for the race; better to save every ounce of energy for the race, if I need to I can use the heater in my car to stay warm.
False. This is a big-time false but I always tend to forget that newer runners think that running before the gun goes off is insane…oh, us newbie runners, so cute…hehe. Just like you shouldn't peel out in your car, your body runs its best gradually working into the faster paces. It's surprising how much of a difference a warm-up will make on your performance actually; think about it, if you're racing a 5k and you skip a warm-up, you'll really only be running a 2.5k race as the first part would be your body basically trying to catch-on to the fact that you're racing. It's tough to make up that much ground with only a half-race distance left. You can check out some tips to perfecting your own warm-up routine HERE.
2) Treadmill running is the same as outdoor running, just sometimes it can be more boring.
False. Now, there are definitely ways to adjust those treadmill runs to best simulate conditions outside but there are still some differences between the two. Some of the big ones are: on a treadmill you don't use your hamstrings like you typically would outside because of the way the belt drags and because the treadmill offers up an even, consistent motion your body doesn't have to worry about turns, miss-steps and other outside 'variables.' The treadmill has its pluses too, it often offers a much more cushioned surface than those outside so it can be the better choice for injury-prone runners or runners coming back from an injury, it's easier on the old body. You can check out under my Writing Page as I've written a few articles about treadmill running, suggestions, and the key differences between outdoor running.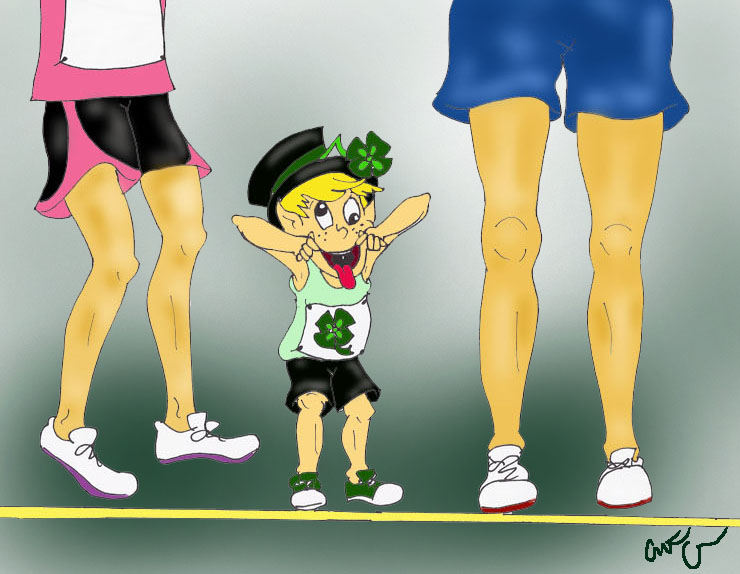 3) All of my friends are in love with the Nike Free commercials but I'm a heavy pronator and don't think they are the best shoes for me.
True. I bleed Nike and love them, but I admit to being a little torn on the whole minimalist shoe movement and barefoot running. Mostly because runners need to proceed with caution and integrate Free/barefoot running slowly into their workouts, not because I don't think there are benefits to be gained from the Free shoes. As with many awesome marketing schemes, it's just being an informed consumer; not every foot and person is designed the same and biomechanics play a HUGE factor with injuries. You need a shoe specific to your foot type: pronator, neutral runner, or supinator. The vast majority fall into the pronator category or supinator; the former need supportive shoes and the latter need extra cushioning, neither of these are offered in a Free/barefoot style shoe. If you're planning on implementing Free/barefoot running into your routine, which can be beneficial when done correctly, do it slowly and start with just a mile of your cool-downs once or twice a week and then build up.
4) I know I'm not a pretty runner, but that's just how I run, my form doesn't really matter anyways, it's about who makes it to the finish line the fastest that counts.
False. Well, the part about form not mattering that is; form equates to efficiency. Think about it, you want every ounce of your energy spent getting you to that finish line, wasted energy in the form of wild arm swings, clenched teeth, and over-striding is holding you back. Form is tricky and can be tough to change but it IS possible and it is worth working on. I wrote a post on tips for correcting common form mistakes HERE.
5) Eating within 30 minutes after my workout will improve my recovery rate by at least 60%.
True. It's a short window of opportunity and it is crazy to think that eating just 31 minutes later will bite you in the bum. You work hard doing the running, why not make your food and fuel work for you too? Before you even take a shower, get your grub on, I wrote more on this topic HERE.

6) Running is paramount, it's the only kind of working out I need to do; I don't have time for stretching and weights anyways.
False. Okay, I'll give you a little wiggle-room because yes, in the end, you can't skip your running but neglecting other things that can enhance your running isn't wise. We all have cramped schedules, but I think we all can denote 15 minutes a day to working on one area that will drastically improve our fitness and running ability: core work, pilates, stretching, yoga, weight/strength training, plyometrics, etc. Alternate doing one, even for just a quick bit, after your runs and it will be a worthwhile time investment. I've got a lot of suggestions on my Workouts/Training page.
How did you guys do? I'm sure all my awesome readers are super-champs and got them all right, but if not that's okay too…now go out there and get sweaty! 🙂
1) Who got them all right? Which ones did you miss?
2) Any questions you would like to be addressed in future posts?
3) What kind of shoes do you run in and how did you get fit for them?
4) What are your weekend plans, any races scheduled?
Related posts: