You're running along, fully in your zone, you look forward and BAM…impending pedestrian traffic jam. We've got a case of people walking four wide, no way to easily pass by, you're faced with the blocked runner's pivotal decision: What to do?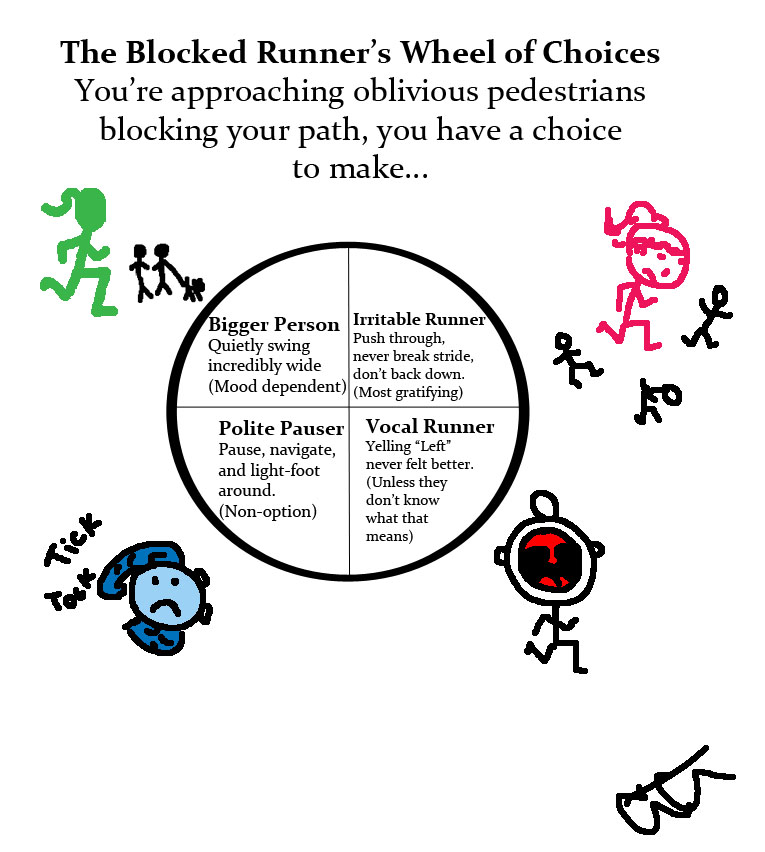 I do my best to always be a polite runner, I give people the benefit of the doubt for the most part, maybe they are unaware just HOW much sidewalk they are taking up. Perhaps they feel the need to monopolize the entire bike path.
I'm a fan of the subtle cough, pretend like you'd just be clearing your throat anyways and they just happen to be in earshot. I like the subtle hints.
If I'm in the middle of a hard workout or on the track I've got no qualms shouting, "Left" or "Track". I'm annoyed but mostly for loss of breath…lol.
Though we ALL have those days, sometimes it's toward the end of a run and unfortunately for the people who act as the straw to break the runners' patience you have HAD it with people in your way. Enter the agitated runner who's had their nerves worn thin thanks to a series of blockades through the course of their run.
We can find solace and acceptance here, among runner friends, to confess away our agitated runner sins, purge ourselves of guilt and repent. "I'm really not a mean person, it's just that last mile, the pack of walkers on the full horizontal, I'd had to swerve just TOO many times before them."
It's okay my children, I've been there, I know the tough spot you're forced into thanks to oblivious pedestrians.
You are forgiven.

1) How are you when you see a big blockade approaching when you're running? Do you tend to be cordial?
2) When you SNAP is it usually relative to the kind of day you've had overall or what's already happened in the run?
3) What's the best story of a runner SNAPPING and unleashing on unsuspecting, blocking pedestrians you're seen, heard, or *gasp* been a part of? We'll call it a runner going over the edge. 😉
Related posts: