Six weeks and the legs went to the dogs! 🙂 I know I haven't talked about it too much on here (I've been playing by the 'if you don't have anything nice to say, don't say anything at all' rules a bit.) but I injured my foot awhile back and was thus held captive to the cross-training.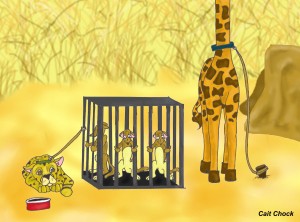 Still working to find out exactly what was/is wrong with my foot but it stems from head-diving into all outdoor running when I'd been doing solely treadmill running for over a year. My case is a little odd, the reason I was a gerbil on the 'mill for so long was because I was a little iffy running on the roads after getting hit by the car.
I pretty much chop-shopped my own little rehab program to even get back to being able to walk and then run (the doctors hadn't seen/worked on a case like mine before) but I knew where I was and I knew where I wanted to end up…so just head in that direction! Anyways, I went to the treadmill on my road back to running but after so long a runnerchick needs to get some fresh air!

I got a little overzealous, I admit, pressed my luck a bit and my foot had something to say about it. Lesson learned, and learn from my mistakes…do as I say, not as I do, right? Running on the treadmill is a lot more 'forgiving' than running on pavement so if you're making a transition you need to do it gradually.
Anyways, six weeks of burning a hole in the elliptical and let me tell you: BAM that first run back (on the treadmill) was a bit of a sucker-punch to the face. That old saying of 'use it or lose it' applies to running, my friends. It's just funny because it takes awhile for the mind to catch up; mentally you're used to a certain pace feeling 'easy' or at one level of effort but then you need to check yourself when you're coming back from a running break…even if you've been diligent with the cross-training, there is still going to be some work getting back into the swing of things with running.
But don't get depressed, because the GOOD news is: muscle memory. While your legs will feel like foreign objects at first and be sore, they snap back relatively quickly and you'll be surprised with the progress. (I am reminding myself of this very thing, we've all been through it before) It's just a matter of mustering up, getting through the transition, and remaining positive…your legs will eventually be returned to you.

Even in the short time I've been getting some easy runs under my belt I've seen improvement…this morning I did a short/easy fartlek on the treadmill (I'm going to heed my own advice and start back on the treadmill for now) and while I was hardly on world record pace I was able to get the old legs moving and the endorphins rolling…and even better news I didn't fly off the back end of the treadmill. 🙂
In closing, I'm hardly out of the woods yet, I'm still supplementing with cross-training but my message is simple: injuries bite the big one, but they are a necessary evil as I've said a million times. My biggest advice though is to allow some venting (keep it minimal and give yourself a time limit of wallowing), but stay positive and keep plugging away…and then do your cross-training. I tell you, if I had done nothing for six weeks the legs would have been ravaged by the dogs and not just bitten. 😉
1) Why is it that the first few miles back running after an injury are both euphoric but excruciating?
Happiness is from the mental relief, the pain are your legs revolting…that's why I was grimacing like that, it was a smile on the inside. 🙂
2) Your go-to cross-training and how do you keep it interesting/effective?
Elliptical and intervals.
3) When on the final few intervals of a workout, what is your mental trick to keep on plowing through to the end?
Tell myself I've only got one more, break down the interval in my mind and think 'only 30 seconds more', and pick a point ahead of me and zone in on nothing else.
Related posts: