A headline caught my eye recently: "Be a better runner without running." *About face* Now I respect the news outlet that ran the article but the snark in me can't resist thinking, "This kind of thing belongs in Runner's World next to the column 'How to get faster in your sleep!'"

In seriousness though, yes there are ways to improve your running and get faster that aren't running. HOWEVER, these are thought of
like 'extras'
…you still have to run.
Everybody and every BODY handles a different amount of volume and quality. Not everyone can log 110 miles per week, with a hard speed session, endurance session, and long run in a 7 day cycle. Some people can run 170 miles per week just fine, others get hurt going over 50…waaah-waahh it's not fair but that's how it is.
Know your body. Know your limits and maximize them. Just because you can't RUN more than 50 miles per week does not necessarily mean you can't beat the runner doing twice your volume. Enter QUALITY.
Here are a few quick tips on maximizing your training if you're a runner who is a little more 'fragile': (ie: improving your running with running less and doing other stuff)
* Extend Your 'Week': By this I'm talking about viewing your training cycle as 9-10 days rather than the standard 7. Meb Keflezighi has talked about doing this as he's aged, and many masters runners work off of a longer training week. This allows for more recovery between hard workouts.
* Rule of 10 and Baby Steps: If you're injury-prone already you know you need to BABY your body a bit. Only increase your miles by 10% each week. Then be honest with what your mileage 'max' is. If you start getting extra creaking when you kiss 50, stick there and supplement with extra cross training instead of miles.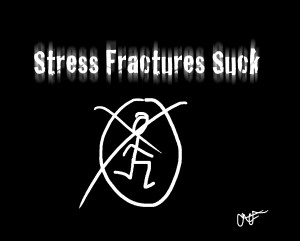 * Swap Your Easy Runs: Plan your miles for the week and 'save' them for your hard workouts and long runs. Those are the days that will give you the most bang for your mileage buck. Cross train on the easy days; to be honest the benefit of easy days are mostly just getting the steady cardio in…you can do that running or cross training. The former is just a lot easier on your body.
* Seek Soft Surfaces: The pavement is harder on your body than the trails, track, and treadmill. Seek these softer surfaces. Also know that lots of downhill running exponentially increases the impact on your joints, so steer clear of huge, sharp downhills.
* Get More Efficient: Most injuries are a result of a weakness and muscle imbalance. Fix those and you'll be running more efficient and most likely be able to handle running more. All the more reason to fix your form, get a stronger core, and solve why you might be stuck in a vicious cycle of injuries.
* Fitter With Cross Training: Ideally you want to be doing your hard workouts as running because this will translate the best for racing but you'd be amazed by how fit you can stay with cross training workouts. So if you have to do some of your 'running' workouts on the cross trainer don't freak out and remember it all comes back to effort. Go hard, get your heart rate up, feel the burn in your legs and lungs, and you're getting work done.
Not EVERYTHING that will get you faster comes from running more miles. Think outside the box, learn your body, and maximize your potential.

Though the snark in me still has to end with this: "but, duh, you still have to do some running." 😉
——-
More articles on cross training and workout ideas!
More articles on injuries, recovering, and how to prevent them!
Related posts: