The race isn't over until the finish line is crossed. Okay, while that sounds like it merits a, "No sh*t, Sherlock," snarkism…hold off for just a tick and read where I'm going with this. However long the race is you've signed up for, there is always time to make a move on your competitor. Don't give up until you have, in fact, crossed the finish line.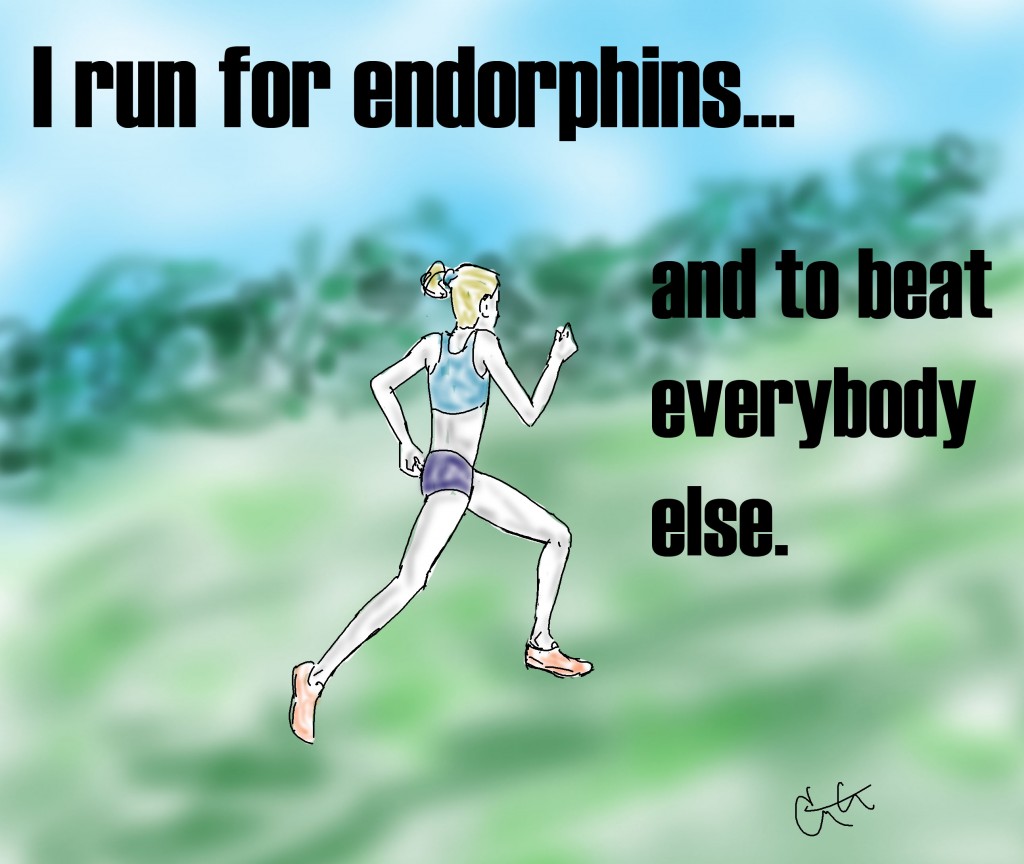 Racing, as with running, isn't just a test of who is physically superior. It is also a test of who has the mental capacities to FORCE their body to its limits. There is also a test of who is a 'smarter' racer, who can put up a poker face the best or who can tell when their competitor is just bluffing. Then you put the hammer down at the moment when your competitor is at their weakest and hopefully crush them mentally. Force them to give up.
How do you crush your competitor mentally? Decisive moves. What's that mean? It means when you pass them, you don't just pass them, you blow by them. You gather yourself right before you pass, drop your shoulders, look at relaxed as possible, breath as evenly as possible, hide how tired you are and surge. Run hard and fast straight past them and keep up the pace to immediately put distance on them. PROVE how strong you are feeling, SHOW them you are obviously feeling stronger than they could possible be, and FORCE them to give up right there. DO NOT, ever, look over your shoulder or give them a shadow of hope that they might be able to keep pace with you. Sounds mean, well, racing can be mean. It's a test of who can get to the finish line the fastest.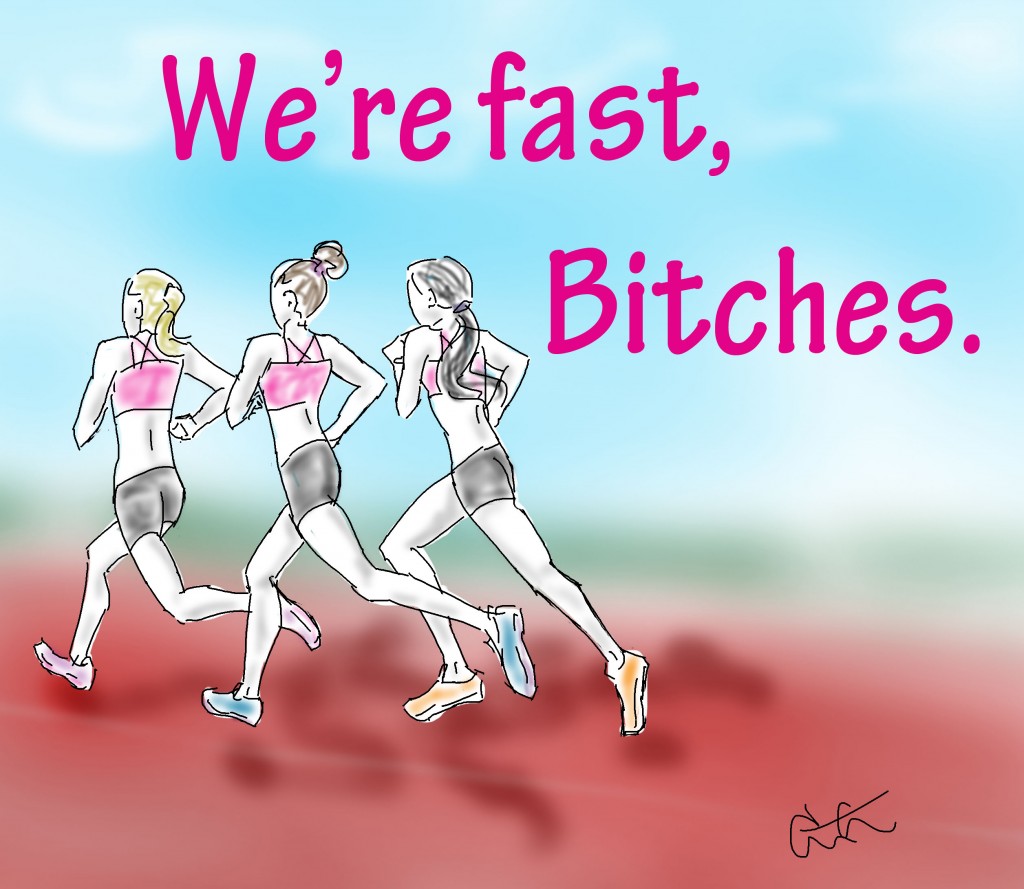 The reason you want to surge and instantly put distance on them is because if you weakly pass someone, if they are smart they will just tuck right in behind you. As we know from racing and running, it's FAR easier to let someone else do the pacing work and just pull you along. If you weakly pass someone you're potentially just doing them a favor. If they are smart, they will gather their own reserves while you lead and decisively pass you and try to drop you. See why it's all about decisive passing?
Now, on the flip side, here is how you should handle getting decisively passed yourself. I wouldn't leave you left hanging without some strategy for the other side of things, because we've always got to be prepared for anything.
When someone makes a move on YOU and passes, know that they probably planned this. This is their attempt to CRUSH your mentally. Get mad, do whatever you have to to get fired up and determined to stick with them. Don't give in and be the person who gives up before the finish line is ever crossed. Like I opened with, unless you're crossing the line there is still distance left. Stay FOCUSED.
FOCUS on their back. Burn a hole into their shirt with your eyes.
RELAX, shake your arms if you have to, control your breathing and do a form check.
DECIDE if you need to make up any lost distance to match their pace NOW or if there is still a long ways to go, hold off and gradually reel them in. Here is where you need to check in with yourself, see how you're feeling, assess your pre-race game plan, and make a choice.
SURGE if it's late in the race and you haven't got time to reel them in. Make up the distance you can and make it your goal to be able to tuck right in behind them.
MOVE. Make a move of your own if you are able to get to them; and remember you want it to be DECISIVE. If they 'spent' themselves the first time they passed you, it might be easier to crush them mentally; they probably didn't expect you to come back.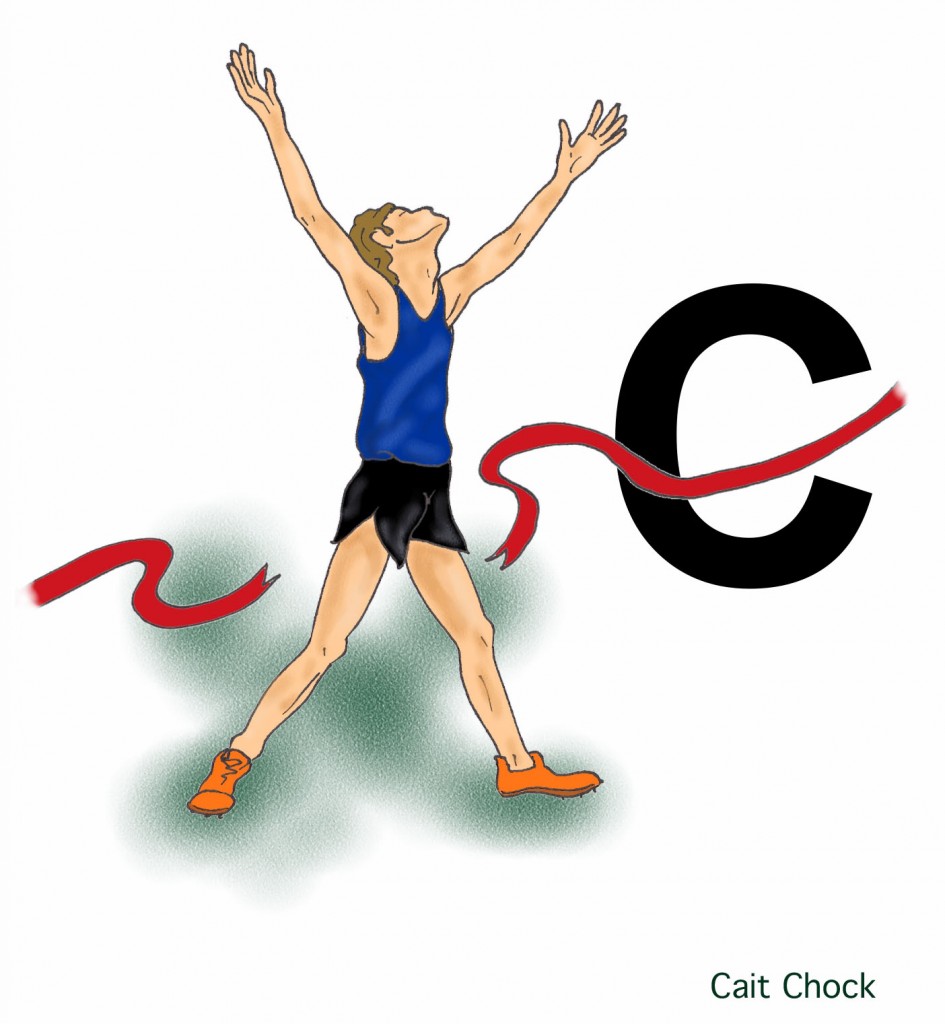 Back and Forth: Passing is a two-way street and you can get into a back and forth sort of game; which can be fun, infuriating and incredibly mentally taxing in addition to the physical. Here, just keep thinking, "It's not over until I say it's over," and don't let any of their passes crush you mentally. Far easier said than done, I know, but that's just how running is. Sometimes you do wind up being the one who got passed and dropped. But each time that happens you get a little bit stronger, physically and mentally, and hopefully it ignites a fire in you to keep training. That way you'll be the one doing the decisive passing and crushing your competitors.
The race isn't over until you cross the finish line.
——–
In case you missed it, check out: '5 Ways to Make Sure Your Race Doesn't Suck'
After all that passing, if you're a runnerchick, be sure to get yourself my Get Chicking shirt! 😉
——–
1) How would you describe a DECISIVE pass versus just merely passing someone?
2) How do you handle getting passed and how do you stay mentally focused and not give up?
3) Do you have a good story of a back and forth passing situation? Do share!
4) Who raced this weekend?? Who ran?? 🙂
Related posts: