Fair warning, this post will be all over the place. It'll be dishing up a fine slew of sides, sort of it's own little bloggy feast. In a break from any kind of tradition, we'll start with the main course.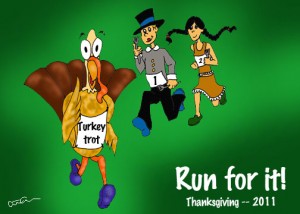 Gobble, Gobble, turkey wobble. Yes, Thanksgiving is tomorrow for those of us in the States and I'll break out the festivities early. I'm pretty sure that yes, indeed, the first Thanksgiving involved a mad dash for the bird, racing bibs and all.
Whether you are partaking in a Turkey Trot of some kind or not, there are a slew around and a big one going on in California is the Run to Feed the Hungry in Sacramento. Now, this race is kinda special to me (cue sappy little music…haha) because back looooong ago it was one of the very first 5k road races I ever did. Actually, it was the first one that was more than a dozen or so runners and here is my funny little story:
I had just joined a local running club and had no idea what this whole running thing was outside of you ran until it hurt and you crossed a line. I was fuzzy on the kilometer thing but got that it was a little over 3 miles…pick jaw off the floor, yes, three miles was long back then!
I was young and following the leader, the other girls lined up in the front row and while the Run to Feed the Hungry wasn't as colossal as it is today it was in the multi-thousands at that point and I wasn't in any kind of fast-person-deserves-to-be-in-the-front shape, we'll just say that. Right before the gun went off my mom grabbed my shoulder, white knuckled, "Honey, just so you know you need to get out fast. There are LOTS of people behind you and I'm not kidding if you go down you will get trampled to death." Thanks, Mom.
BOOM…gun goes off. The good news is I am alive today. Anyways, I remember it was a lot of fun, but not going to lie a major highlight was probably the slew of eats afterwards…I remember pizza.
This year, the Run to Feed the Hungry has a fun little twist. For anyone who doesn't know, Michael Stember (he grew up around these parts and it has a local appeal here too) is dusting off the racing flats and running for charity. There is a deal though, he is challenged to run a sub-18 minute 5k. Now, if you look at his past PR's, he is a former Olympian after all, you'd laugh and say he should be able to run it backwards. But, he hasn't been competitive for awhile, and I can attest that if you don't use it you lose it. 😉
Anyways, I give him props for both putting himself out there and making a dash for charity. My bet is he does break 18 (I doubt he'd put himself out THAT far without some kind of gauge in his fitness) and the American Indian Model Schools get some charity proceeds.
Speaking of fast runners there are also some big guns racing in a Silicon Valley Turkey Trot; one of them is Dathan Ritzenhein. Trust me he'll break 18 minutes and it's one of his first races back from a long line of injuries so GOOD LUCK to him!
Told you this was all over this place, and we'll end with some mashed taters and pumpkin pie. I am a fan of pumpkin pie, but mostly because I scoop out the top part and save the crust for last…it is the best part and I like it all soggy from the pumpkin stuff. Wow, yum.
On that note, Happy Thanksgiving to all!
1) Are you running in any turkey themed races tomorrow?
No, I'm not but trust me I'll be putting in my sweat session.
2) Putting yourself out there and broadcasting a goal certainly ups the ante; if others know what you're shooting for you can't really take it back. Do you have one you'd like to share? Are you vying for any PR's?
3) Something you are thankful for?
My family and some cool friends.
Related posts: