Don't mess with me, I'm a runner. Looks may be a bit deceiving, I've had people call me 'hummingbird arms' or 'wishbone' but I can pack a punch. Runners come in all shapes and sizes, a few of us (okay, probably more than a few) could be dubbed scrawny…but don't ever confuse that with weak.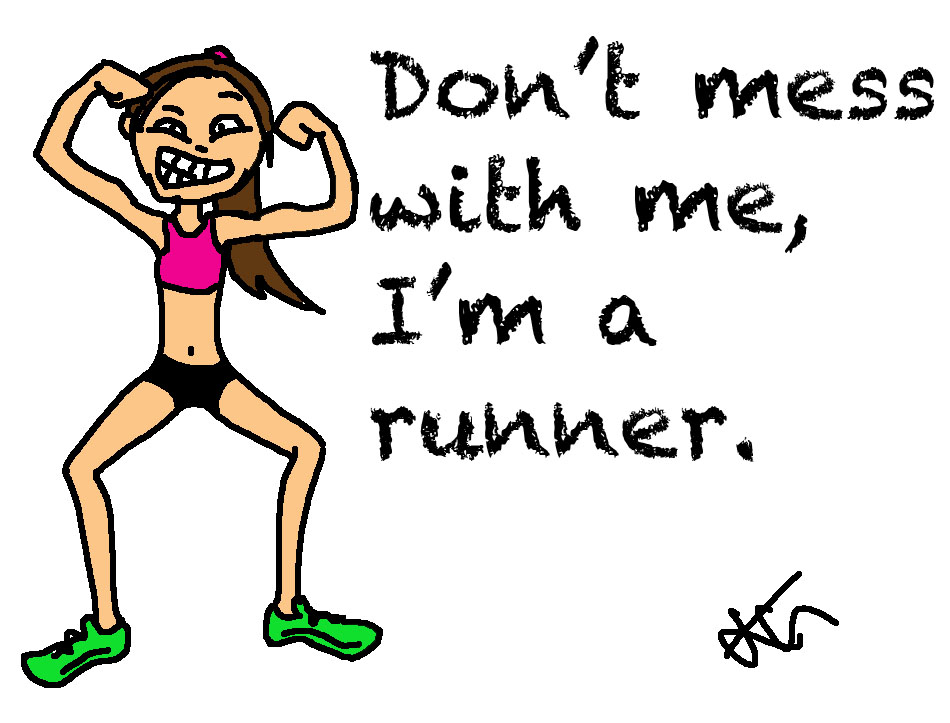 I do my weights, core work like a good little harrier, am no stranger to the plyometrics. I'll admit that it sometimes feels like I have to choke that stuff down because I'd rather gobble up more miles BUT I know all these 'extras' will make me a stronger runner. If you want to be fast, (or at least less slow…hehe) you've got to have a core that can keep you standing tall when you're tired. You can't have feeble little arms swirling around like a ribbon-dancer if you want to be efficient either.
Those arms can be slender but darn tooting they should be long, lean, and muscular. Okay, we may not ever bench the same amounts as those gym-goers with the permanent protein powder shaker bottles in hand, but that's not our aim. Distance runners lift for higher reps and lower weight, duh. It's all about the endurance.
Want to see us be a little more explosive? Then come to the track after a workout and we'll show you our plyometric routine. Granted it may not be on par as the sprinters but for distance runner standards that's some POP! You'll see that same POP come the last lap of our 10k's…all that explosive power translated into speed is something beautiful, I'll tell you what! It's even more beautiful to swing wide and pass that poor fool who neglected working on that power and speed.
Not all of the ways we build speed are so obvious, some of that power comes from the miles and miles run up hills. Hill repeats, yup, long runs on trails, you got it, tempo runs where the times are misleading due to incline…you bet!
But you want to know the BIGGEST reason you shouldn't mess with a runner? The strongest assest of a distance runner is, in fact, their mind. I open myself up to hate from footballers, b-ballers, curlers (teehee)…but until you've done mile repeats until you swear you're about to barf and then enter into the next rep, the day you run so long you're not quite sure if you're running so much as kicking your foot out in front of you and praying it catches, or you refuse to believe you're beat so you DIG down for that extra gear.
Mental fortitude…that's why you don't want to mess with a runner. The rest, well, the rest is just enough for us to kick you @$$ with. 😉
1) Finish the sentence: Don't mess with a runner because…
2) What is one way you've gained strength, speed, or power?
3) If you've played other sports, can you compare the different skills or mindsets necessary for them versus running. What has been the hardest sport or tested you the most?
4) Sometimes even runners have weaker mental days, it happens. So how do you rebound off of a 'weak' mental day, learn from it, and aim to not give up next time?
I always remember how crummy it feels when I know I've been a mental weenie.


Related posts: