When I read that the Arcadia Meet was happening this weekend, I admit to smiling.Yes, I'm 26 and FAR removed from high school competition (the way I act though sometimes may beg to question if that's where I do belong though…hehe.) but for a quick minute indulge me in a little nostalgia.
When I was a freshman running track, The Arcadia Invite was the first really big meet I had ever been too. To me it felt HUGE, epic even…but not just because it was the first meet that was going to be run late enough that the whole place was dark minus the track illuminated by those big floodlights. Arcadia's got two meets, the day meet and the night, the night meet is the invitational where you have to have a qualifying time to get in. Because it was pretty selective only one other girl from my school came down, Liza Negriff a triple jumper and still a friend I have today! That year was to be especially interesting because current high school senior Alan Webb was going to make an attempt to break 4 minutes for the mile.
Little side tangent here, little dorky high school Runnerchick was in awe of Alan and by chance we happened to be at the track the day before doing our shakeout runs at the same time and I felt all 'special' because I got to talk to him. Like one of those random people that somehow gets past the red rope and bumps into a celebrity…oh us runners and our running celebs. 😉 The even funnier part is that it turned out that Alan Webb and the rest of his relay team happened to be staying at the same hotel as us and was in fact only a few doors down…somewhere I have a picture of us all in the hotel…wow, and I think I still had braces. 😉
Back to Arcadia, this was my first big meet…okay, I said that. A few things stand out in my mind about the whole ordeal, like the reel skips and pauses in random spots. I tend to have a very photographic memory but also weird in that it's random details I can recall exactly but maybe not the bigger things. The day passed and of course I was nervous…I hate any race that isn't first thing in the morning because you wonder what in the heck you're supposed to do with yourself all day! You just sit there and stew…and then you have to worry about planning out your food and what will sit okay in your stomach.


I'm pretty good at managing my nerves; I say that meaning I do get nervous as heck but I'm able to channel them to help me rather than lead to an implosion. Tip for race nerves: come up with your solid race plans (yes that's plural because you may have to adjust mid-way through) days before, then stuff the race out of your mind two days leading up. Then only get into race game mode when you start your warm-up. As you go about your race day warm-up routine it helps calms your nerves; going through the same, exact motions brings a normalcy to the day and run and gives you something concrete to focus on.
So I get to the line, and for the first time I'm lined up next to girls I had only read about or seen on high school websites. These girls were legit, they were my high school idols, and there I was looking at them…but I didn't wet my little bunhuggers, I toed the line for the 3200 meters and off we went.
I don't remember much from the race, I tend to zone out during them, and because the field was so fast I didn't have to worry about doing any thinking really…plan: latch onto some pack and try to hold on. Time was irrelevant, I didn't even look at the clock once. I will admit, embarrassingly, that for some odd reason the whole darkness and spotlights sort of threw me for a loop and for a couple laps I wasn't sure if I was at the 200m mark or the start/finish point! Hey, I WAS only a dumb frosh. 😉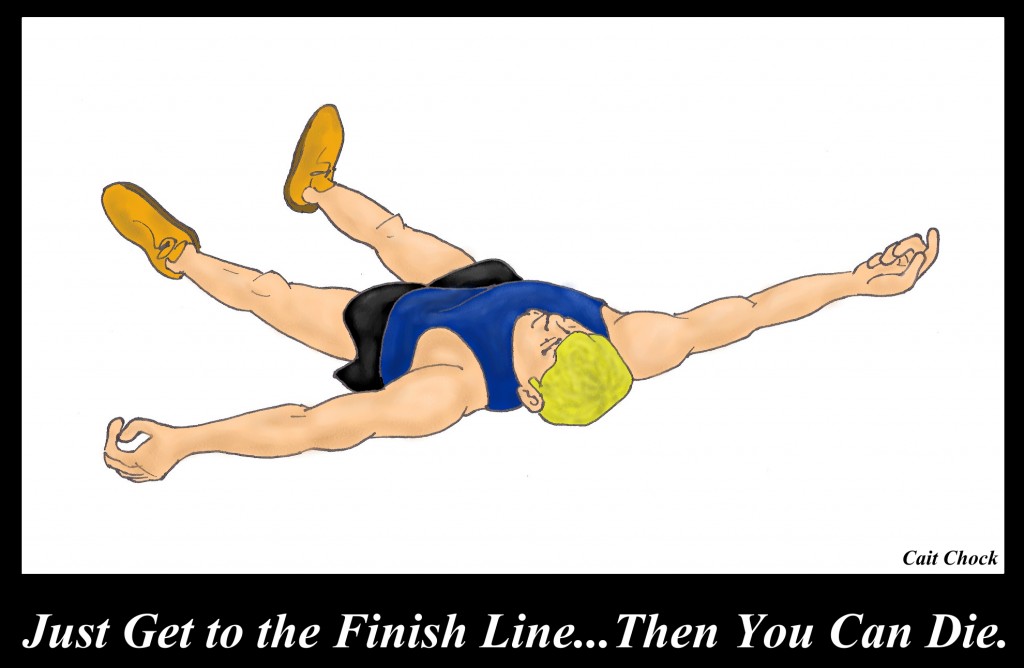 Anyways, the whole way I did just what I set out to do, I latched onto some faster girls, not the fastest pack but another pack behind them, and dug down to stay with them. Crossing the line I was still in awe of the girls around me, but they felt closer in a way than they did prior to the start. I did after all earn my spot to race against them, even though they spanked me I was at least fast enough to line up with them, I guess I belonged on some level.
I had no clue what my time was until I saw my coach and mom jumping up and down yelling at me. I PR'ed by about 30 seconds I think…I was ecstatic.
Back to random clear and day details, we refueled that night at Claim Jumper (if you ever go there you MUST ask them for a slab, not a slice this thing is a full on slab, of their chocolate mother-lode cake.) and Liza, my mom, and I all had the loaded, stuffed baked potato. I joked that this potato literally had to be on steroids, if you've never been to Claim Jumper I think pretty much everything they serve is the 'roided up sized version. 😉
So the Arcadia Invite certainly brings back some awesome and funny memories. Good luck to all those high schoolers racing, and if you're in the position of lining up next to some of your high school idols…don't wet yourself, instead remember that you earned the spot to line up next to them. You belong there…go out and race. And that goes for anyone, there will always be times when you feel like you're in over your head, but chances are you did something to get there.
HERE are some race tips if you're interested. HERE is a piece of visualization and how to use it to improve your performance. And HERE are some tips on battle pre-race nerves.
1) Do you remember one of your first races or one of the first big races you ran?
2) Do you get nervous before races or hard workouts?
3) What time do you prefer to race or run at?
Morning all the way!
4) Tip for a newbie racer?
Don't go out too fast. 🙂
5) Do you have a running idol? Have you ever met them?
Related posts: