It's Spring now, Runners…so while we ALL love to put those running tights away, it does come with a drawback…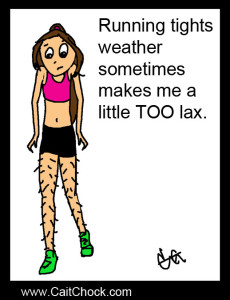 Yay for more daylight, boooo for that missing hour of sleep. I'm still going to be bitter about losing that hour…hopefully it wasn't too rough for you guys. Now off to scrounge up those razors.

1) Have you been able to bust out the running shorts yet?
I'm not going to lie, I actually never put them away.


2) What are you looking forward to this Spring and Summer?