Yes we may run for our sanity, the betterment of our souls, to push ourselves…but when it comes right down to it there's a little peace of mind knowing if a situation arises where we need to get the heck out of there FAST, we're faster than one poor, unfortunate soul.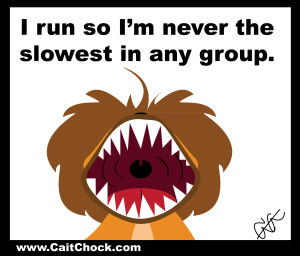 Darwinism at its finest, Folks.

#runtosurvive
———–
More CARTOONS HERE!!
———–
1) Let's hear another situation that you've thought of where running fast would certainly help you dodge a bullet? Or any other hazard.
2) When's been a situation in life that being a runner has helped?
Chasing a bus I was about to miss. Speeding down the terminal trying to make a flight, heart rate at about interval level.


3) What's making you laugh today?