I've been informed that as of yesterday I am no longer awesome. This is coming from my friend (and new housemate) in reference to the fact that for the very first time I ran with a Garmin. "Well, that was a long time coming," you think, "did you also know there is a thing called a cell phone?"
I've talked before explaining my old school ways, but let's face it, I finally cracked. Since I now plan on doing a lot more running outside, I would be lying if I said I'm not OCD about at least knowing how many miles I run total. Before my accident I always just ran for time, I knew my 'easy pace' and then estimated the miles. Ya, I knew that most days I was probably running a bit faster than that, but I counted it off of the pace and if it was a bit over I was okay with that. I would rather be a little over than under anyways.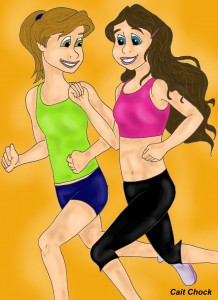 But now I have no clue what pace I am going, or what certain paces feel like, my inner-calibration is wonky. I know I'm way slower than before and trust me, getting into the groove that first mile must just look plain comical. So I borrowed a Garmin and strapped that gargantuan thing on my wrist. Sidenote: they really need to make that thing smaller, I mean sheesh! I've seen the older models where the face is smaller so I want to try one of those.
Not going to lie, I like it, but only the really basic features. Tell me my total time, total distance, and I was interested in my overall pace average. Easy peasy, lemon squeezy.
On another subject, I was asked why I didn't bring any water, sports foods, gels, etc. with me on my runs. The thing is, I never have, but I think that's because I'm not training for a marathon or ultra-distance. Now, I want to put the disclaimer front and center: I am NOT an expert here, I'm just saying what I do, what I've read, and things I've heard/talked about with other people I know. Yes, some of THEM are experts, but I am not.
Just my thoughts on the whole 'to tote accessories or not to tote,' I don't bring anything because 1) I don't want anything more on said person than must be there, like I said that Garmin was bugging me only because it feels like it will take up my whole forearm 2) my stomach is really sensitive and I don't think eating/drinking would turn out too great on my run 3) I'm not running far enough.
Now, I know that total distance is all relative, but for me, I don't think it's necessary to eat or drink anything in the amount of time I'm gone. Now, if I were to run a marathon I know that I'd have to train myself to eat/drink because you need to do that if you want to do your best. I've read before that generally if you're running an hour or less it isn't necessary to have anything, but if you go longer you should think about restoring your glycogen stores and rehydrate.
"]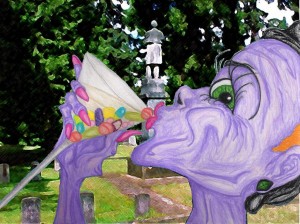 Yes, sometimes I run more than an hour, but I still think it's in the zone of not needing anything because it's not that much more. Though, I've run with plenty of other runners on our long runs sans toting extra gear and then refueled/rehydrated upon our return. That's just what I'm used to and what works for me.
So, I don't tote. But if you're running mega miles and training for a marathon or more you SHOULD be training to eat just like you'd be training to run that day. If I ever decide to try and cross that bridge, then I'll do just that.
Finally, it's a totally personal choice. I think newer runners may feel more comfortable bringing some water if it's hot, and if you get used to packing then perhaps you'll be more likely to continue doing so. However you wanna roll.

1) Do you tote on your runs? If so, how far does it have to be for you to tote?
2) What do you think about on your runs? Do you ever get songs stuck in your head that you don't like and then the rest of the run you keep repeating bad lyrics?
Yes, I do, and today was one of those times.
3) Do you run off of time and then estimate the distance from a certain pace?
4) Not a question, but a kindly request. The rocking Christina needs your help, so if you would, head over to her blog and check out the teeny tiny favor that she's asking for. Do it, it won't take but a minute, but you'll get some good karma vibes!

Related posts: