Cross-country. When I first started running it was after not being able to make any other sports team and my mom suggested I go out for the cross-country team. I thought it was some kind of traveling group.
When I found out it was running I wasn't impressed. More like I was left in a pant but being that my parents were both runners I was also determined to do well; this was all on my own, my parents never put any pressure on me, all self-imposed.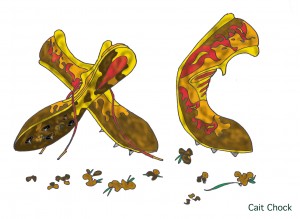 But regardless, I wanted to do my best to keep up with the other runners if for no other reason than to avoid feeling embarrassed about being outed as the girl who couldn't keep up. Cross-country was my first introduction to this whole 'running thing' and so it will have a special little place in my heart. *Cue warm fuzzy music and Hallmark card.*
I also thought it was a lot more exciting than track because of the change of terrain, I wasn't all too jazzed about running in a million circles like a gerbil. (Cut to today, I've done 10 mile tempos on the track and actually preferred it because I can be OCD anal about my splits, not to mention countless thrilling miles on the treadmill…haha.) I liked the challenge of hills too…the first time I went to the Mount Sac course, that sick little part in my brain all us runners have thought, "Awesome, this course is going to HURT!"
Hills are tough but there is a method to tackling them. Keep your eyes locked on the crest, know the end is going to eventually be there and what goes up must come down. Don't hunch over, don't overstride; keep your feet moving forward, if anything shorten your stride and dig into the ground with your forefoot, claw your way to the top.
Use your arms to your advantage, keep them swinging, did you know your feet will always keep pace with your arms; swing your arms faster and your legs will follow suit. Run THROUGH the top of the hill, don't stop right before you get to the crest; make it over the hump and use that momentum to your advantage to flllllly down the backside.
There is an art to running downhill too; don't fight it, let the hill carry you down. Focus on staying controlled and keeping your form. Don't fight it.
Cross-country will get you muddy, get you dirty, make you tough. It will make you strong mentally and physically. The challenges each course sets before you is different, unique, but in the end it comes down to this: Will it be you or the course that wins?
1) Did you ever run cross-country?
2) Do you prefer cross-country or track?
3) What do you have going on this weekend?

Related posts: